END OF THE LINE: Esky Girls Lose Pitcher's Duel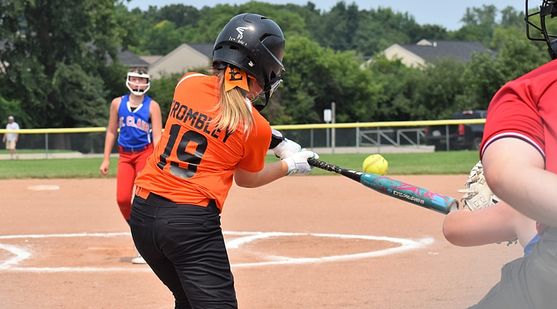 Click the thumbnails to see photos and videos.

ROCHESTER HILLS, Mich.---The Escanaba Minor Little League All-Star (age 9-10) softball team lost their state quarterfinal match-up on Monday, dropping a pitcher's duel with St. Clair, 2-0, in the Detroit suburb of Rochester Hills.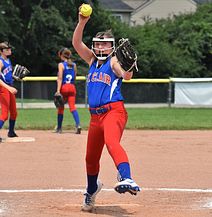 Escanaba's Emma Parlato and St. Clair's Kara Yeager both threw one-hitters, and they both had double-digit strikeouts in the circle.

But the difference in the game was three errors committed by the Escanaba defense in the second inning, bringing home the only runs of the game.

That happened in the bottom of the second inning when, with one out, Yaeger was safe on an error at first base and Leah Cybulla reached base on a bobble at third base. Parlato got a strikeout for the second out, and then issued her only walk of the game to Kamryn Kern.

Parlato appeared to get out of the jam when she got Blair Distelrath to ground one to second base. But the ball was booted and two runs scored. The only runs of the game, as it turned out.

Escanaba had a chance against the hard-throwing Yeager in the third inning. Bella Noblet got a bunt single to start the inning and then with two out, Abby Derkos was safe when a pop fly on the infield was not caught. That was the only St. Clair error of the game, and the bunt by Noblet was the only base hit of the game for Escanaba.

But Yeager got Kinsley Williams to ground out to second base. Escanaba would not get another baserunner as Yaeger struck out 12 batters. And Escanaba did not hit a ball out of the infield.

Parlato nearly matched Yeager. She struck out ten batters and did not allow an earned run. The only base hit against her, a two-out single by Mallerie Randall in the third inning, did not figure in the scoring.