WALK-OFF MAGIC: Anderson HR Lifts Greens 6-5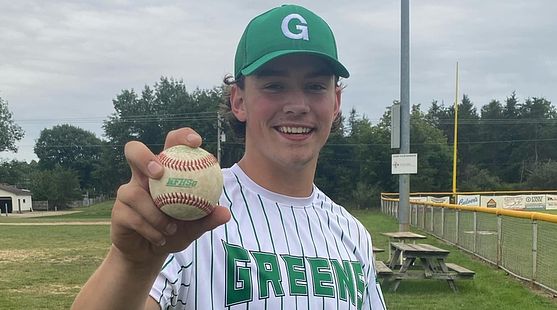 GLADSTONE---The Dickinson County Greens American Legion Baseball team rallied from q 3-0 deficit to beat the Gladstone Indians, 6-5, in the first game of the Upper Peninsula Zone Five tournament on Thursday at Don Olsen Field in Gladstone.

Ian Anderson's two-run gome run in the bottom of the seventh inning turned a 5-4 deficit into a 6-5 victory in a highly-emotional game between the two rivals.

"I've been coming off a slump with six pop ups in a row," Anderson said. "I was just thinking, I just need to rip it here! And I couldn't get 'walk-off home run' off my mind. I was shaking up there. I was a little nervous. I didn't want to swing too hard, but it kind of worked out in the end."

Early on, it looked like Gladstone might cruise to the win with Caden Alworden pitching well on the mound. He had a 3-0 lead in the fifth inning before the Greens took advantage of an error and a pairof walks. Blake Julian cleared the bases with an extra base hit that, with an overthrow helping, tied the game for Dickinson County at 3-3.

Then Hunter McCarthy came through with an RBI single to put Iron Mountain in front, although the Indians claimed his foot was out of the batter's box when he made contact.

After Gladstone regained the lead, it was walk-onn magic for Anderson and the Greens.

Dickinson County will be back in action Friday night at 6:00 CT/7:00 ET against the Menominee Red Wave. The game will be broadcast on WZNL-FM (94.3 The Breeze) and on The Breeze page at www.radioresultsnetwork.com;

Gladstone will also be in action on Friday agaisnt the Eastern U.P. Wood Ducks. That game starts at 4:00 ET and will be broadcast on WCHT-FM (94.3), AM-600 and on-line at www.rrnsports.com.