CLUTCH NO-NO! Norway Advances To State Final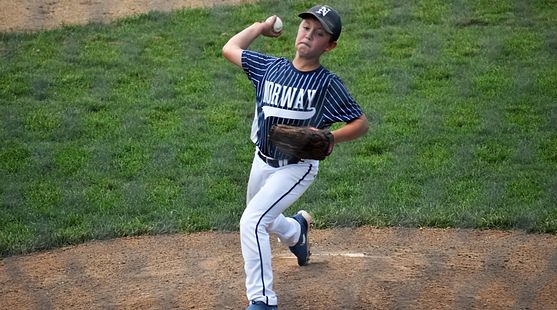 Click the thumbnails to see photos and videos, and see/hear interviews with DeBakker, Lord, Halvas, and Norway Coach Scott Sternhagen.

NORWAY---The Norway Minor Little League All-Stars (age 9-10) pulled out a dramatic 1-0 win over Midland Northeast in the state semifinals Tuesday afternoon at Marion Park.

Landon "Donny" DeBakker threw a no-hitter, and got three straight outs in the final inning after the bases were loaded on two hit batters and an error on a bunt.


"I'm feeling pretty pumped after the win," DeBakker said. "It took a lot of effort and practice. I threw about 20 pitches before the game. Just lots and lots of practice."

But after he hit two batters to start the sixth inning, and a runner was safe on an infield error on a bunt, DeBakker had no room for error. And he fell behind Autumn Luiek in the count, 3-1.

"I was like come on Landon, come on Landon," Norway manager Scott Sternhagen said. "We knew they were going to bunt. They had the top of the order coming up. That's when we actually went up (with pitches) in the zone. We were pitching low, low, all day. But we needed to guard the bunt. Then with two out, we knew they weren't going to bunt, so we we were either going to play or get a strikeout."

What was DeBakker thinking, knowing that another bad pitch would tie the game?

"I was thinking, 'well, if I can just throw at least two down the middle and get one out, my teammates would hopefully back me up," DeBakker said.

That's exactly what happened as he got the called third strike, and then struck out Hayes Gallihugh (also looking). Then, Midland clean-up hitter Madden Shepardson hit a fly ball to left field. Trent Havlas, who sat the bench for the first half of the game, made the catch, setting off a wild celebration as Norway beat a team that had dominated its opponents this week.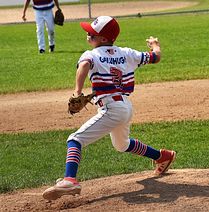 "I was just thinking, I better not mess this up or Scott, my coach, is gonna kill me," Havlas said. "I was thinking, oh no, I hope this doesn't go the wrong way, because that would be bad. I want to be in the state championship game!"

Havlas nearly ended the game on the play before that, when Shepardson smacked one foul toward the left field corner. Havlas dove and almost caught it but face-planted.

"I was shaking," he said. "I was an inch away from it. But oh, that gravel hurt though!"

DeBakker was efficient on the mound, using only 55 pitches to get through the first five innings of the game. He tired a bit in the sixth, but was clutch after loading the bases with no outs.

"The only thing I threw today was just fastballs," DeBakker said. "Low fastballs."

"Donny's biggest struggle this year has been his pitch count," Sternhagen said. "There was a game he pitched that he only made it through three innings and he was at (the maximum) 75 pitches. So, in all honesty, I was thinking, who am I coming with next if they score a run and it's 1-1."


But when DeBakker got that last out, it was on his final pitch before he would've had to leave.

"He just pitched an amazing game," Sternhagen said. "And, I mean, against Midland! But also, our defense. Our defense was on point. Our defense was just unvelievable."

The only run of the game came in the top of the first inning, and it was unearned. Tyler Sternhagen hit a pop fly that was dropped by the right fielder, barely outside of the infield. A wild pitch sent him to second base, and then Colton Lord came through with the base hit up the middle to bring the run home. It was one of only two base hits that Norway got.

"It felt really good," Lord said. "I think I hit it right in the sweet spot. It was right up the middle. I couldn't have asked for anything better."

Midland pitcher Hayes Gallihugh took a tough loss. He did not allow an earned run, only two hits (the other was by Tristan Lesser) and he struck out seven, while walking one. But he got no run support, and the Norway boys, who came out of the loser's bracket in the districts to beat Kingsford twice, now have a chance to win a state championship on their home field.

"I'm really excited because now we're in the state championship, which Norway hasn't been in in such a long time," Lord added. "We dug ourselves out of it. Our pitch count was the biggest thing. When we walk too many guys and throw a passed ball, they advance, and score so many runs. Not today!"

Norway advances to the state championship game on Wednesday against Greater Bay County. The District 14 champions from Bay City and the Thumb area of Lower Michigan defeated Kalamazoo South Portage, 7-2, in the second semifinal Tuesday night.

The championship game starts at 4:00 CT/5:00 ET and will be broadcast on WZNL-FM (94.3) and will be streamed on-line at www.radioresultsnetwork.com/breeze