Norway Boys' Comeback Falls Short In State Finals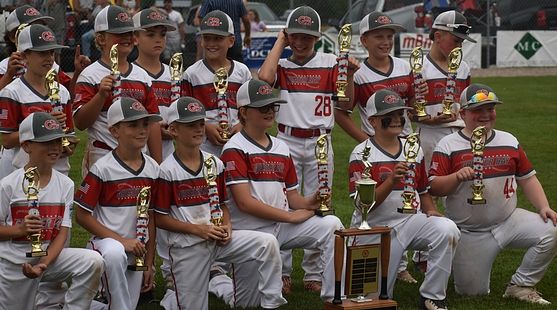 Click the thumbnails to see photos and video clips, and listen to the final outs of the game and comments from Norway Manager Scott Sternhagen and tournament director Tony Adams.

NORWAY---The Norway Minor Boys (age 8-10) Little League baseball team had its season come to an end in the state championship game on Wednesday, falling to Greater Bay County Little League from Lower Michigan, 4-2, before a huge crowd at Norway's Marion Park.

Norway gave up four runs in the final two innings, and then after pitcher Colton Lord settled down and kept the downstate boys off the board the rest of the way, Norway had its season come to an end in the final inning on a double play with the bases loaded.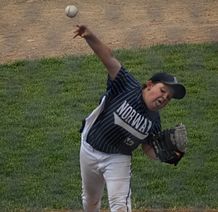 "It was a great run," Norway Manager Scott Sternhagen said. "We knocked out Midland and played Bay City to a 4-2 game. These guys played hard. Colton Lord pitched a wonderful game and did all that we asked of him. I was hoping for four innings from him and he gave us five."

"We made a couple of miscues in the first inning and that's kind of what it came to. We stayed in there and we made some plays, but it just wasn't our day today with the bats."

Greater Bay pitcher Carter Mize was tough, as Norway managed only one hit off of him before he reached his maximum pitch count with no outs in the sixth inning. Mize struck out seven batters and walked three, and allowed two unearned runs.

Norway scored against him in the second inning when Tristan Lessor drew a one-out walk, stole second, and went to third on a bunt by Jaxon Walker. Walker was also safe on an error, and then Hunter Langin hit a sacrafice fly to cut the Bay County lead to 2-1.

In the bottom of the second (Bay County won the coin toss and was the home team), Brady Irrer had an RBI single and then Ryder Southern smacked an RBI single. That made it 4-1, but Norway had a nice relay throw from the outfield to cut down the second runner trying to score.


But the District 14 champions had a 4-1 lead after two innings.

Norway got back to within 4-2 in the third inning when Dylan Erickson was safe on an error amd scored on a double to the left field fence by Tucker Buchanan. But Mize got the next three outs, and in fact, retired nine straight batters heading to the sixth inning.

Greater Bay looked to add to the 4-2 lead in the fourth inning when Landon Debo drew a leadoff walk. With one out, Irrer hit a grounder toward short.

Buchanan lunged for the ball, just getting his glove on it, and threw to first from his knees for the out. Then first baseman, Langin, threw across to the third baseman, Lessor, for the tag on Debo.

Both were extremely close plays that were argued by the Greater Bay coaches, but it was a 6-3-5 double play that got Norway out of the inning.

In the bottom of the fifth, Southern got his second hit of the game, but with two out, Logan Debo's shot up the right-center field gap was tracked down by Norway center fielder Dylan Erickson to end the inning. It was Lord's 75th and final pitch, one way or another.

In the top of the sixth, Maze could face only one batter, and walked Brock Baldwin before reaching his pitch maximum. That brought in Colton Burch to pitch for Bay County, and it was a wild ride from there.

Burch gave up a sharply-hit single to Lord, and then Donny DeBakker, who has been swinging a hot bat for Norway, struck out swinging on a 2-2 pitch.

Also, along the way, Bay County catcher, Irrer, stopped three pitches in the dirt to prevent Norway baserunners from advancing.

Tristan Lessor smacked a base hit up the middle to load the bases, but that's when Walker hit the ball to the worst possible spot on a 1-1 pitch: to the pitcher. Burch snared the ball and threw to the plate for one out, and then Irrer fired to first for the clinching double play.

It was the end of the line for a Norway team that gained growing support from the Dickinson County community, with a huge crowd ringing the entire field. The 50/50 raffle jackpot, for example, was an unheard-of $1,550. A typical 50/50 is one-fifth of that amount.

"This whole community really came out today which was unbelievable," Sternhagen said. "That's what a small community does. It was really great to see so many people here, and we appreciate it so much."