BOUNCING BACK: Maroons Get Win In Gladstone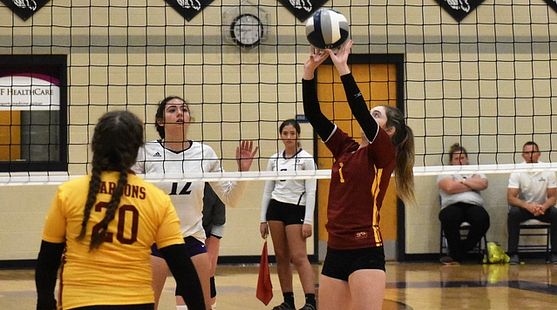 Click the thumbnails for photos, videos, interviews.

GLADSTONE---What a difference 48 hours makes.

The Menominee High School volleyball team bounced back from a dismal performance in their season opener to beat the Gladstone Braves, 3-0, Thursday night in Gladstone.

The scores were 25-18, 25-23, and 25-11.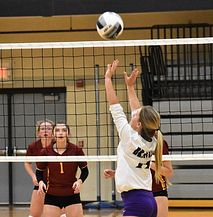 The result came after the Maroons were dominated in a 3-0 loss at Bark River-Harris Tuesday night, when they fell behind 12-0 and lost the first set 25-5, before coming to life late in the match.

It was too late that night, but on Thursday, the Maroons got off to a strong start, and finished even stronger, pleasing Coach Sarah Betzinger.

"A lot better passing, a lot more movement, and they were getting a lot more comfortable with each other," Betzinger said. "They're learning how each other plays. So they're taking control out there and I like that. They're running the game they want to run."

The Maroons were led by Piper Monroe, who was dominant up front, and was even effective when she rotated into the back row.

"It was a lot better," Monroe said. "We were talking a lot more. Really supporting our team and getting behind the ball. I felt very good about my digging, and for the front row, I was hitting the ball well."

For Gladstone Coach Averi Kanyuh, this is a "back to square one" kind of moment.

"I think we lacked communictaion, which is what we worked on, but it did not show up tonight," Kanyuh said. "It'll be back to basics for practice, and really just gettin the girls comfortable with the rotations that we've been playing out."

Menominee hosts Marquette next Tuesday and then travels to Escanaba on Thursday. Tha Braves will be back on the court for another Great Northern Conference match against Kingsford.