CRUISE CONTROL: Escanaba Girls Top Gladstone

Click the thumbnails to see photos, watch videos from the #1 doubles match, and listen to comments from EHS Coach Chris Ogren and Gladstone's Tia Schone.

GLADSTONE---The Escanaba High School girls tennis team continued its strong early-season play by beating the Gladstone Braves, 7-1, Monday afternoon in Gladstone.

Escanaba Coach Chris Ogren says his team is ready to battle against the likes of the Negaunee Miners and Westwood Patrots, who seem to be the cream of the crop this season. The Eskymos finished third behind both of those Marquette County teams at a toucrnament last week.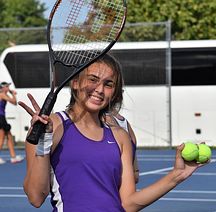 "We're not too far behind them, and if we put in the work, that's an attainable goal for us to get to their level." Ogren said. "We have a pretty mixed group. We have a freshman on the team, we've got four sophomores in the line-up, five seniors. It's a good group. They wor hard."

Escanaba won five of Monday's matches with Gladstone in straight sets, with the best match being a Number One doubles battle between Escanaba's Gracie Wickham and Abby Hill, and Gladstone's Montgomery Pepin and Emma Wagner.

It went back and forth, with Esky winning the first set, 6-2, before the Braves won the next set, 7-6. That set up a third set tiebreak (due to time constraints), and it also went to the wire before the Esky duo won, 11-9.

Gladstone's only win of the day came at #3 singles, as Tia Schone outlasted Escanaba's Lizzy Sliva 7-6 (with a 6-3 tiebreak) and 6-3.

"I think I did pretty good this game," Schone said. "I thin I placed the ball pretty well, my serves looked pretty good. The wind kind of messed both of us up, so that kind of took a turn for the worst. I think I hit the corners and edges pretty well, and made her hit shots she was uncomfortable hitting."

Ogren says his girls always enjoy playing Gladstone, and they performed well.

"The girls were excited on the way over (on the short charter bus ride)." Ogren said. "They looked forward to this one. It's always good no matter what the teams look like. This one is always close, and it's always a lot of fun."