Broncos Shake Off Sluggish Start To Beat Munising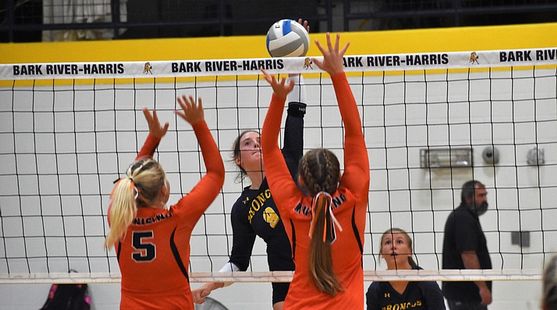 Click the thumbnails to see photos and videos, hear comments from Tressa Ives, Cara Zawacki, Carley Varoni, BR-H Coach Jen Ives, and Munising Coach Josh Cole.

HARRIS---The Bark River-Harris Broncos played their first match in two weeks Tuesday night. It too a while to shake off the rust before the Broncos recovered to turn back the Munising Mustangs, 3-0, in Harris. The scores were 26-24, 25-18, 25-13.

It was the first match for the Broncos since their win over Menominee, because of the Labor Day hoiiday and the fact that their highly-anticipated match with last year's state semifinalist Carney-Nadeau Wolves was canceled because of the coronavirus last week.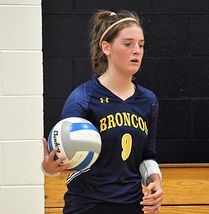 "It was really upsetting to hear that Carney got quarantined and the game got cancelled," BR-H junior Carley Varoni said. "But that ind of just fueled us, that, you know, that could have been our last game. I mean, you never know. So I think after two weeks of not playing, we came out really strong."

"I think it was a great game and we were ready coming off that two-week break from Carney's quarantine," BR-H senior Tressa Ives said. "So, we were ready to play. I think we did great tonight and we played together as a team."

"We started off really slow, and I definitely think it didn't help not playing in two weeks," BR-H senior Cara Zawacki added. "In practices, we were trying to play hard, and in scrimmages. But scrimnaging each other, you kind of know what each of you do. But against a team you haven't played yet, you don't know what they're going to do. So we started out a little slow, but we managed to fight our way back into the game."

Munising also battled. The Mustangs and Broncos were nec-and-neck throughout the first set, and Munising had set point after taking a 24-23 lead. But the Broncos rallied to take the next three points to win, 26-24, with Aspen Fredrick putting away the winner at the net.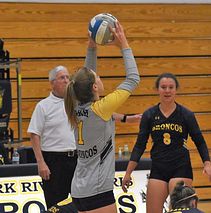 The second set was also tight, with Munising taking a 16-15 lead. But the Broncos went on another run, this time a 10-2 run, to win the set, 25-18. The set point was memorable because when the Mustangs sent a return over the net. Ives misshit the ball and it went toward the student section in the bleechers. Varoni raced over, lunged out, and got one arm on the ball.

That kept the play alive, and Ava Arndt lofted a get-me-0ver freeball that landed in front of the startled Munising middle row, setting off quite a Broncos celebration.

BR-H rolled in the third set from start to finish, winning, 25-13. But Munising Coach Josh Cole was not disappointed in his team's effotrs.

"Our back row was fantastic all night tonight," Cole said. "Hats off to them. But Bark River went on a couple of runs serving. They had the home court advantage and we know how Bark River is. They play well at home. I think Jen (BR-H Coach Ives) has quietly built a really good program here the last three or four years. Not a lot of people know about Bronco volleyball. But I do."


Cole says his team had to switch from a 6-2 system to a 5-1 system,

"We were down a couple of players," Cole said. "That's always hectic for players and coaches heading into a set. But I thought we battled teally hard in the first and second sets."

The Broncos players were happy with their effort as well.

"We played, all-around, pretty good," Zawacki said. "We served well. We started getting our hits in. We had amazing passes. I mean, everyone on the team played really well."

"We were nervous at first, but we finally settled into our groove," Tressa Ives said. "But we got going again. And the crowd had fun too. We were able to get the football boys here this time, and they were able to come out and support us, and we're really grateful for that. It was a great night, all around."

"We came out a little rusty," Varoni said. "We were looking forward to tonight, and I just think we came out really strong and we showed them what we had. We're just one of those teams that can come out and show 'em what we've got, and I definitely think we did that tonight."

Bark River-Harris hosts North Central this Thursday night. Munising is off until next Wednesday, Sept. 15, when the Mustangs host Mid Peninsula.