Escanaba Overwhelms Gladstone For V-Ball Victory

Click the thumbnails to see photos and videos and to hear comments from both coaches, as well as Esky players Mya Whitson and Katelyn Stalboerger.

ESCANABA---The Escanaba High School volleyball team led from wire-to-wire Thursday night in rolling to a 3-0 win over the Gladstone Braves. The scores were 25-10, 25-14, 25-14.

"I think we need to go back to basics and work on our serve-recieve, as they had quite a bit of service runs on us," Gladstone Coach Averi Kanyuh said. "They have some good servers. And I think that, too many times, girls kind of looked to tip when we should be swinging hard at the ball when it is a good set."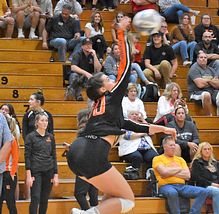 Escanaba Coach Adam Lambert substituted freely, using many underclassmen.

"The girls were here to play and they had a lot of fun tonight," Lambert said. "It's just fun to watch the team come together. When you can play everybody, and they're in there just cheering each other on, that's fun to coach."

The Escanaba players said they had some things to work on during the match, despite what they knew ahead of time would be a lopsided end result.

"We've been working hard and we were super-excited to start playing again," Eskymo junior Katelyn Stalboerger said. "We started talking a lot more. We've been struggling on talking. We played really good tonight. I just had the mentality that I had to get it over the net as hard as I can, and if I messed up, it was all right because I will just get the next one."

"I think we communicated really well and we really used our trust, and we worked together as a team," Eskymo junior Mya Whiston said. "I think, all-around, we did pretty well. We called some good plays and we set up the court nice. I got us a lead there early in the first game (with her jump-serve). I started jump-serving when I was in the sixth grade and over the years, it just got better. It's paying off. It feels good beating Gladstone."

Kanyuh says her Braves can play better, and they will play better as the season goes on.

"I think we can definitey work on our passing more, so we can run our ofense better," Kanyuh said.

The Braves host The Rock Invitational this Saturday in Gladstone, while the Eskymos head to Traverse City for a tough tournament below the Mackinac Bridge.