NCA Jets Sprint Past Stephenson In Season Opener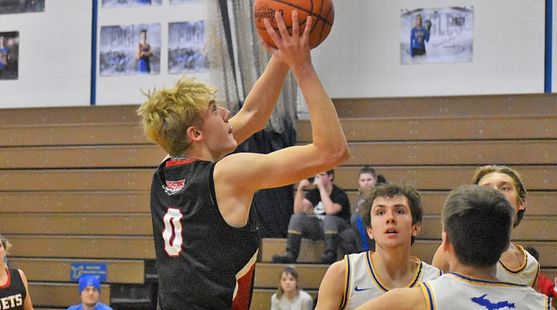 Click the thumbnails for photos and video highlights and hear post-game comments from Jesse Sampson and Coach Mike Malone.

STEPHENSON---The North Central Jets boys basketball team scored the first 15 points of the game Monday night and rolled to a 66-37 win over the Stephenson Eagles in the season-opener in Stephenson. It was the only game played in the Upper Peninsula after heavy snow closed schools around the region, including NCA and Stephenson.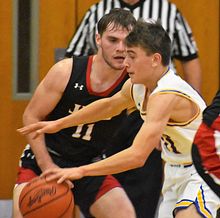 But road consitions improved throughout the day, and the teams decided to play, and NCA Coach Mike Malone liked what he saw.

"It felt fantastic," Malone said. "My guys came out, and the number one thing was effort. One hundred percent effort. And every one of them gave it to me, 110. I was really happy with that."

Malone freely substituted throughout the game, and they all scored at least one basket.

"Stephenson mixes things up and come at you with different things in different ways," Malone said. "I'm pretty happy with the way our guys responded. We've got a lot of things to work on, though."

NCA led, 20-6, after the first quarter, and 32-8 at halftime. Junior Jesse Sampson help to led the Jets with 14 points, while sitting the bench for large chunks of the game.

"I felt pretty good," Sampson said. "I felt like our team's intensity was really great all throughout. I'm really proud of the guys for staying up, keeping that drive, and keeping that hunger. These guys are always a good game. And their student section is always amazing. They're always chirping. Some of the guys were getting into it, too. I'm just happy that we got this rivalry game."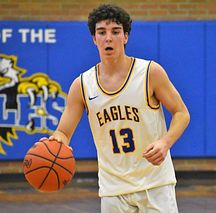 Connor Florenski was the Jets' leading scorer with 16 points. Bradey Anderson and Collin Cordy both chipped in eight points.

Stephenson was led by Spencer Coldrun, who scored 14 points. Lluis Alloza added ten points and two blocked shots. Zack Schwartz contributed six points and a blocked shot.

Malone says his players, most of whom played football well into November en route to a state championship, need a little more time to get into basketball shape.

"Its a difficult thing because they've only had one, maybe one-and-a-half weeks of practice together, before out first game here," Malone said. "I was really worried about how we were gonna play, but they came out and their legs seemed to be OK and they didn't seem too fatugued."

Sampson was one of the few guys who did not play football this season.

"I've been working on it throughout the off-season while the guys were practicing for football," Sampson said. "Running cross country, staying in shape. I think the football guys have all transitiioned amazingly. I feel like we are really hitting our stride early."