Iron Mountain Wins Escanaba Elks Wrestling Invite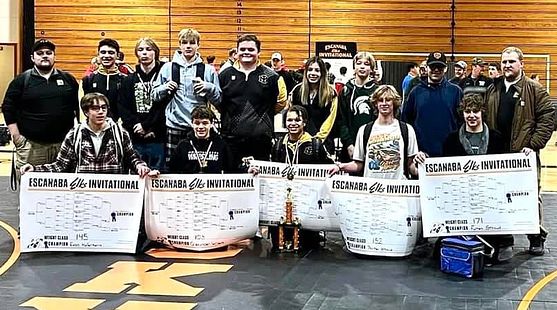 Click the thumbnails to see videos of wins by Gladstone's Michael Brazeau and Hunter Solis, and Escanaba's Eli Gardner.

ESCANABA---The Iron Mountain Mountaineers had five individual champions and edged the Escanaba Eskymos to win the annual Elks Wrestling Invitational on Saturday in Escanaba.

Iron Mountain finished with 213 points, as Alexander Wilson (103 pounds), Shawn McGuire (119 pounds), Evan Haferkorn (145 pounds), Parker Stroud (152 pounds), and Fulton Stroud (171 pounds) all won first-place brackets.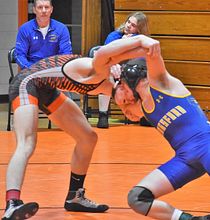 Escanaba was the runner-up with 166.5 points. Cade Krueger (112 pounds) was the Eskymos' only champion, but three others made the finals and settled for second place: Charley McInerney (125 pounds), Trevor DeGrand (130 pounds), and Jarret Olsen (189 pounds).

The Gladstone Braves had three individual champions: Michael Brazeau (125 pounds), Hunter Solis (!30 pounds) and Brett Boudreau (heavyweight).

The Braves finished fourth overall as Drew Hansen and Connor Britton also finished as runners-up in their brackets.

Benzie Central finished third in the team score.

ELKS INVITE TEAM SCORES

1
Iron Mountain
213.0
2
Escanaba
166.5
3
Benzie Central
160.5
4
Gladstone HS
156.0
5
Kingsford
116.0
6
Ishpeming
104.5
7
Munising
87.5
8
Negaunee
84.0
9
Manistique
69.0
10
Newberry
51.0
11
Bark River-Harris
47.5
12
UP Extra
41.0
12
Westwood
41.0
14
Sault Area HS
37.0
15
Menominee
21.0
16
UP Extra 2
17.0
17
Gwinn
5.0
18
Escanaba 2
3.0
FINAL RESULTS (courtesy: Trackwrestling.com, Escanaba HS Athletics_

103
• 1st Place - Alexander Wilson of Iron Mountain
• 2nd Place - Benjamin DeRidder of Benzie Central
• 3rd Place - Shyna Hruska (Iron Mountain) of UP Extra
• 4th Place - Wyatt Westman of Kingsford
• 5th Place - Aiden Spriks of Gladstone HS
• 6th Place - Allison Kleiman of Bark River-Harris
1st Place Match
• Alexander Wilson (Iron Mountain) 9-3, So. over Benjamin DeRidder (Benzie Central) 11-7, Fr. (Fall 0:21)
3rd Place Match
• Shyna Hruska (Iron Mountain) (UP Extra) 9-3, So. over Wyatt Westman (Kingsford) 5-7, Fr. (Fall 4:22)
5th Place Match
• Aiden Spriks (Gladstone HS) 6-6, Fr. over Allison Kleiman (Bark River-Harris) 4-5, So. (Fall 1:45)

112
• 1st Place - Cade Krueger of Escanaba
• 2nd Place - Conner Britton of Gladstone HS
• 3rd Place - Phoenix Espinoza of Negaunee
• 4th Place - LINDSAY WILLIAMS of Westwood
• 5th Place - Thomas Jenkins of Gwinn
1st Place Match
• Cade Krueger (Escanaba) 9-2, Fr. over Conner Britton (Gladstone HS) 8-4, Fr. (Dec 8-4)
3rd Place Match
• Phoenix Espinoza (Negaunee) 6-4, Fr. over LINDSAY WILLIAMS (Westwood) 3-4, Jr. (Dec 12-6)
5th Place Match
• Thomas Jenkins (Gwinn) 9-3, Fr. over () , . (Bye)

119
• 1st Place - Shawn Mcguire of Iron Mountain
• 2nd Place - Drew Hansen of Gladstone HS
• 3rd Place - Eli Gardner of Escanaba
• 4th Place - Conner Wenkel of Benzie Central
• 5th Place - Eli Terrien (Gladstone) of UP Extra 2
• 6th Place - Dillon Hayes of Manistique
1st Place Match
• Shawn Mcguire (Iron Mountain) 12-1, Jr. over Drew Hansen (Gladstone HS) 13-2, So. (Dec 5-1)
3rd Place Match
• Eli Gardner (Escanaba) 12-6, So. over Conner Wenkel (Benzie Central) 19-6, Fr. (TF-1.5 3:38 (15-0))
5th Place Match
• Eli Terrien (Gladstone) (UP Extra 2) 4-1, Fr. over Dillon Hayes (Manistique ) 10-7, Jr. (Fall 0:59)

125
• 1st Place - Michael Brazeau of Gladstone HS
• 2nd Place - Charley McInerney of Escanaba
• 3rd Place - Tyler Winch of Iron Mountain
• 4th Place - Cole Whitehead of Munising
• 5th Place - Macario Kalcec of Kingsford
• 6th Place - Nathan Higgins of Benzie Central
1st Place Match
• Michael Brazeau (Gladstone HS) 15-4, Sr. over Charley McInerney (Escanaba) 12-4, Fr. (Dec 5-1)
3rd Place Match
• Tyler Winch (Iron Mountain) 10-4, So. over Cole Whitehead (Munising) 10-4, Sr. (Dec 6-0)
5th Place Match
• Macario Kalcec (Kingsford) 11-7, . over Nathan Higgins (Benzie Central) 8-9, Fr. (Fall 2:59)

130
• 1st Place - Hunter Solis of Gladstone HS
• 2nd Place - Trevor DeGrand of Escanaba
• 3rd Place - William Ohman of Sault Area HS
• 4th Place - Daniel Manier of Iron Mountain
• 5th Place - Reed Degroot of Kingsford
• 6th Place - Andrew Cain of Munising
1st Place Match
• Hunter Solis (Gladstone HS) 12-3, Sr. over Trevor DeGrand (Escanaba) 13-3, Jr. (Fall 1:58)
3rd Place Match
• William Ohman (Sault Area HS) 14-6, So. over Daniel Manier (Iron Mountain) 6-4, Fr. (MD 9-0)
5th Place Match
• Reed Degroot (Kingsford) 10-9, Fr. over Andrew Cain (Munising) 9-5, So. (Dec 6-5)

135
• 1st Place - Jaeger Wilson of Ishpeming
• 2nd Place - Hayden O`Neil of Newberry
• 3rd Place - Owen Cruden of Benzie Central
• 4th Place - Adam Belanger of Gladstone HS
• 5th Place - Griffin Maline of Manistique
• 6th Place - Dillon Lindgren of Iron Mountain
1st Place Match
• Jaeger Wilson (Ishpeming) 9-1, Sr. over Hayden O`Neil (Newberry) 13-3, So. (Dec 10-9)
3rd Place Match
• Owen Cruden (Benzie Central) 19-6, So. over Adam Belanger (Gladstone HS) 6-8, Fr. (MD 12-0)
5th Place Match
• Griffin Maline (Manistique ) 5-8, Fr. over Dillon Lindgren (Iron Mountain) 2-2, Fr. (Dec 4-3)

140
• 1st Place - Reagan Bowerman of Munising
• 2nd Place - Jacob Gillison of Benzie Central
• 3rd Place - Isaac Manier of Iron Mountain
• 4th Place - Kyle Hyatt of Ishpeming
• 5th Place - Adam Reimer of Escanaba
• 6th Place - Austin Mischel of Manistique
1st Place Match
• Reagan Bowerman (Munising) 13-3, Jr. over Jacob Gillison (Benzie Central) 20-5, So. (TF-1.5 4:59 (15-0))
3rd Place Match
• Isaac Manier (Iron Mountain) 13-2, Sr. over Kyle Hyatt (Ishpeming) 5-5, Jr. (Dec 10-9)
5th Place Match
• Adam Reimer (Escanaba) 12-7, Jr. over Austin Mischel (Manistique ) 7-5, Jr. (Fall 4:46)

145
• 1st Place - Evan Haferkorn of Iron Mountain
• 2nd Place - Dalton Gettings of Benzie Central
• 3rd Place - Trent Maki of Kingsford
• 4th Place - Trenton Turchin of Escanaba
• 5th Place - Ayden Smith of UP Extra
• 6th Place - Derek Bowler of Newberry
1st Place Match
• Evan Haferkorn (Iron Mountain) 14-1, Jr. over Dalton Gettings (Benzie Central) 14-5, So. (Fall 1:29)
3rd Place Match
• Trent Maki (Kingsford) 9-6, Jr. over Trenton Turchin (Escanaba) 9-7, Jr. (Fall 2:21)
5th Place Match
• Ayden Smith (UP Extra) 2-1, So. over Derek Bowler (Newberry) 9-8, Jr. (Fall 2:59)

152
• 1st Place - Parker Stroud of Iron Mountain
• 2nd Place - Jacob Berry of Manistique
• 3rd Place - Cael Katt of Benzie Central
• 4th Place - LEONARD PIZZIOLA of Westwood
• 5th Place - Cody Russo of Sault Area HS
• 6th Place - Miller Pomper (Benzie- Central) of UP Extra
1st Place Match
• Parker Stroud (Iron Mountain) 14-0, Sr. over Jacob Berry (Manistique ) 9-6, Jr. (Fall 0:58)
3rd Place Match
• Cael Katt (Benzie Central) 15-4, Jr. over LEONARD PIZZIOLA (Westwood) 5-5, Sr. (Dec 5-1)
5th Place Match
• Cody Russo (Sault Area HS) 12-10, Fr. over Miller Pomper (Benzie- Central) (UP Extra) 3-2, . (Fall 2:15)

160
1st Place - Wyatt Raab of Bark River-Harris
• 2nd Place - Logan Hurkmans of Ishpeming
• 3rd Place - William Crisp of Munising
• 4th Place - Bradon Walstrom of Iron Mountain
• 5th Place - Tyrone Brouillet of Benzie Central
• 6th Place - Owen Mattonen of Gladstone HS
1st Place Match
• Wyatt Raab (Bark River-Harris) 5-0, Sr. over Logan Hurkmans (Ishpeming) 4-1, Jr. (Fall 1:15)
3rd Place Match
• William Crisp (Munising) 12-4, Sr. over Bradon Walstrom (Iron Mountain) 7-3, So. (M. For.)
5th Place Match
• Tyrone Brouillet (Benzie Central) 19-11, So. over Owen Mattonen (Gladstone HS) 6-11, So. (Dec 6-0)

171
• 1st Place - Fulton Stroud of Iron Mountain
• 2nd Place - Josh Peterson of Kingsford
• 3rd Place - Michael Pfeiffer of Benzie Central
• 4th Place - Braxton Silkworth of Menominee
• 5th Place - Eli Primley-Nerat (Menominee) of UP Extra
• 6th Place - Ross Pugh of Manistique
1st Place Match
• Fulton Stroud (Iron Mountain) 9-1, So. over Josh Peterson (Kingsford) 13-4, Jr. (Fall 2:30)
3rd Place Match
• Michael Pfeiffer (Benzie Central) 12-4, So. over Braxton Silkworth (Menominee) 6-5, Jr. (Fall 3:34)
5th Place Match
• Eli Primley-Nerat (Menominee) (UP Extra) 4-1, . over Ross Pugh (Manistique ) 8-2, Jr. (Fall 1:33)

189
• 1st Place - Dawson Delongchamp of Ishpeming
• 2nd Place - Jarret Olsen of Escanaba
• 3rd Place - Jacob Wandahsega of Bark River-Harris
• 4th Place - Nathan Keough of Negaunee
• 5th Place - Liam Jones of Benzie Central
• 6th Place - John Lund of Manistique
1st Place Match
• Dawson Delongchamp (Ishpeming) 10-0, Sr. over Jarret Olsen (Escanaba) 13-4, Sr. (Dec 22-15)
3rd Place Match
• Jacob Wandahsega (Bark River-Harris) 10-7, Sr. over Nathan Keough (Negaunee) 5-5, Jr. (Dec 5-2)
5th Place Match
• Liam Jones (Benzie Central) 9-6, Jr. over John Lund (Manistique ) 5-5, So. (Fall 0:26)

215
• 1st Place - Eli VanBuren of Negaunee
• 2nd Place - Aidan Rajala of Ishpeming
• 3rd Place - SPENCER HARVALA of Westwood
• 4th Place - Anthony Hart of Escanaba
• 5th Place - Elizin Rouse of Kingsford
• 6th Place - Jude Way (Manistique) of UP Extra
1st Place Match
• Eli VanBuren (Negaunee) 6-2, Jr. over Aidan Rajala (Ishpeming) 4-1, Jr. (Dec 3-1)
3rd Place Match
• SPENCER HARVALA (Westwood) 8-3, Sr. over Anthony Hart (Escanaba) 5-11, Sr. (Fall 0:38)
5th Place Match
• Elizin Rouse (Kingsford) 7-3, So. over Jude Way (Manistique) (UP Extra) 3-2, . (Fall 0:30)

285
• 1st Place - Brett Boudreau of Gladstone HS
• 2nd Place - Matthias Miller of Newberry
• 3rd Place - Matthew Wilson of Kingsford
• 4th Place - Riley Murk of Munising
• 5th Place - Brayden Dunstan of Negaunee
• 6th Place - Marcus Verrette of Iron Mountain
1st Place Match
• Brett Boudreau (Gladstone HS) 17-3, Sr. over Matthias Miller (Newberry) 15-3, Sr. (Fall 3:42)
3rd Place Match
• Matthew Wilson (Kingsford) 16-5, Sr. over Riley Murk (Munising) 6-4, Jr. (Fall 1:13)
5th Place Match
• Brayden Dunstan (Negaunee) 4-1, Jr. over Marcus Verrette (Iron Mountain) 5-4, Jr. (Dec 1-0)