Norway Knights Roll Past Bark River-Harris, 61-22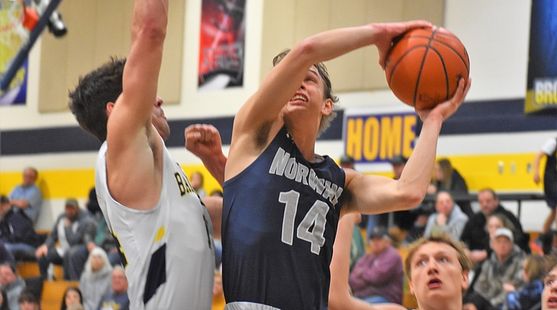 Click the thumbnails to see photos and videos, and listen to post-game interviews from Chase Carlson and Nolan Amundson.

BARK RIVER---The Norway High School boys basketball team jumped to a 16-1 lead and rolled past the Bark River-Harris Broncos, 61=22, Friday night in Bark River.

All eleven Knights players scored in the win.

"Our coach told us this was a big game and that it would set the tone for conference play," Norway senior N0lan Amundson said. "We came out, we did our job, and we hustled all around, every single player. Our big guys boxed out. Chase Carlson and Blake Dishaw played a hell of a game. I think they both had ten rebounds each and that was big for us."

"We just played some hard core defense," Carlson said. "Just had to keep pushing the ball, and give it all you've got, no matter what. Just don't ease up. Boxing out. That's probably my biggest thing."

Amundson led the Knights with 12 points. Alex Ortman added eight points and Drew Anderson chipped in sevven. Andon Metzer had five points for the Broncos.

Norway improved to 5-2 on the season. Bark River-Harris fell to 1-5.