Braves Use Big Fourth Quarter To Beat Mid Pen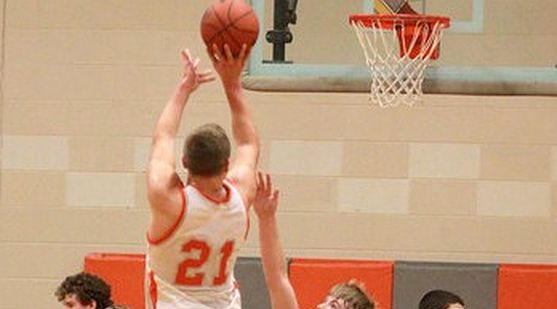 PERKINS---The Gladstone Braves scored 25 points in the fourth quarter and turned back the Mid Peninsula Wolverines, 52-41, in a non-conference game Tuesday night in Perkins.

The game was sloppy at times, especially in the first quarter, when there were almost as many turnovers as points on the scoreboard. Mid Pen led, 9-8, after the first quarter, and Gladstone led, 23-22, at halftime.

The game stayed close throughout the third quarter, as the teams managed to score just four points apiece. Leading 27-26 entering the fourth quarter, the Braves went on a 12-2 run.

A steal and a basket by Kyle Kleiman ended that spurt, giving Gladstone a 39-28 lead with 4:19 left in the game. Mid Pen's Brett Branstrom tried to keep his team in the game, scoring ten of his game-high 21 points in the final four minutes of the fourth quarter.

But down the stretch, the Wolverines could get no closer than six points. That happened when Evan Winkelbauer drained a three-pointer to cut the Braves' lead to 47-41 with 20.8 seconds left in the game.

Blake Ballard sealed the game for the Braves with a couple of free throws. Ballard made nine of his ten free throw attempts in the fourth quarter, and the Braves as a team went 14-for-19 from the line in the fourth quarter.

Ballard led the Braves in scoring with 18 points. Jared Vuksan had 13 points and added Michael Cretens 11. Besides Branstrom's 21 points, Mid Pen got eight points from Alex Winkelbauer and five points from Ty Barron.

Gladstone won the junior varsity game, 56-46.