Rockets Score Last 19 Points To Beat Wolverines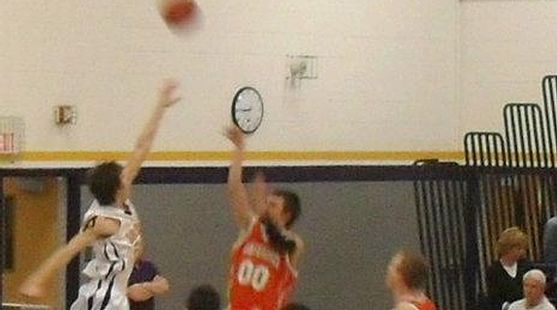 RAPID RIVER---For most of the night, not much went right for the Rapid River Rockets basketball team. The boys couldn't pass, couldn't shoot, and they were trailing their arch-rivals by 15 points with just 5:46 left in the game.

But the Rockets stayed composed and put on an improbable late-game run to pull victory from the jaws of defeat.

Rapid River scored the final 19 points of Friday night's game and beat the Mid Peninsula Wolverines, 47-43, at the Rapid River High School Gym.

"I told the guys that we had nothing to lose," Rapid River Coach Craig Carter said. "I told them that I'm not gonna get mad if they go for a steal and miss. And the guys came up big. But in Mid Pen's defense, they had some shots that went in in the first half that didn't go in the second half. They weren't taking bad shots. And they were protecting the ball decently."

"We were down on ourselves, but we kept talking that we had to get back in this and we can't let down," Rockets junior Rob Metter said. "We had to let go of all the little things that we were messing up on. We had to forget about all of those things and work on what we needed to do. The biggest thing was to get offensive rebounds because that is our weakness."

Rapid River managed just 14 points in the entire first half due to poor shooting and strong Wolverine defense. And at the other end, Brett Branstrom scored 15 points to help put his Wolverine team into a 26-14 lead at the halftime break.

"It wasn't a very nice halftime speech for them," Carter said. "We had one of the worst first halfs I've ever seen as coach of this team. Two games in a row, because we didn't come out very quick against Crystal Falls, either."

That speech didn't pay immediate dividends, though, as the Mid Pen momentum continued into the third quarter. Cody Stone and Branstrom each hit a couple of baskets and Mid Peninsula led, 39-25, after three quarters, and led, 43-28, with 5:46 left on the fourth quarter clock.

But that's when the Rockets came back, with Darrell Kohli running the show and Metter coming off the bench to provide some much-needed offensive spark down the stretch. Metter's three-pointer with 4:39 left in the game cut the Rocket deficit to 43-35.

Then Jake Pearson hit a reverse layup to make it 43-37 with 4:04 left. The Wolverines had a chance composed and put on an improbable late-game run to pull victory from the jaws of defeat.

Branstrom missed from in close, and the Rockets moved it up court and Kohli banged one in off the rim to make it 43-41. Winkelbauer tried a three-pointer, but missed, and Metter got the rebound. Seconds later, Pearson tied the game at 43-43 with 2:10 left on the clock.

The Wolverines could not match the Rockets' intensity, and they still couldn't score. Kohli gave the Rockets their first lead since early in the first quarter with a free throw with 1:46 to play. After another empty Mid Pen offensive trip, Kohli split two foul shots again and all of a sudden, it was a 45-43 Rockets advantage.

Mid Pen still had a chance as Brett Branstrom got fouled and went to the free throw line. But he missed the front end of the one-and-one, and Pearson found Metter all alone for a layup to seal the game at 47-43 with 15 seconds left on the clock.

"I thought for sure that Branstrom had those foul shots and I was gonna have to use my last time out and draw up something," Carter said.

But when the final seconds ran off the clock, the Rockets were celebrating.

"We knew that we could play better, and we never gave up" Kohli said. "We just kept the pressure on. I think the whole team was just not too confident yet in shooting the ball and just playing basketball. But we're getting better, as we showed in the second half."

Kohli (pictured at right) led the Rockets with 16 points, while Metter and Pearson each added 12. Brett Branstrom had 20 points for Mid Pen, while Chad Branstrom added eight points, including a pair of three-pointers.

It was a huge game for Metter off the bench, and he says that he sure needed it.

"I felt bad because I was late for a couple of my practices and this was my chance to make up for it," Metter said. "I let my team down by missing those practices. So I thought I had to go out there and help my team and get us back in this game."

"He's a phenominal athlete. He's a leaper, he's fast, he has great hands," Carter said. "But I didn't know if I was gonna play him tonight or not. You can't be late for work, or you lose your job. But I talked to him, and it was some tough love, and he wasn't happy, but he came in and made up for it."

Mid Peninsula won the junior varsity game, 42-35. It was the first JV win for the Mid Pen program in nearly four years.

But the Rockets varsity team made sure that it would not be a Wolverine sweep. Rapid River (2-3) travels to Superior Central on Monday.

That means a New Year's Eve shoot-around, and a New Year's Day practice!