MARATHON MATCH: Gwinn Outlasts Bark River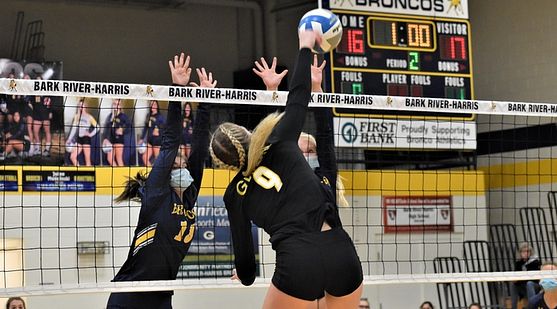 HARRIS---The Gwinn Model Towners and Bark River-Harris Broncos played a wild volleyball match Tuesday night before Gwinn went home with a 3-2 win.

The scores were 31-29, 25-19, 22-25, 20-25, and 15-10.

"It was a roller coaster," Gwinn junior Jordana Hardy said. "We just can't keep it together for very long, I guess."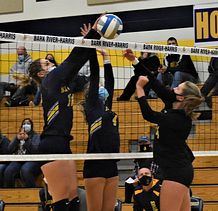 "I think that we just struggled throughout with our serving," Gwinn Coach Toni Roberts said. "We don't miss nine serves in a night, and we missed nine serves in the third set alone. They were just completely out-of-whack with the serve, so in the fifth set, our only goal was to get our serves over and in. We knew that's all we had to do to win the game."

Hardy had a service run of five straight points in the deciding fifth set, taking the Model Towners from an 8-6 lead to a 13-6 advantage. She served all of them low over the net, and short, to the left side of the court. Gwinn ended up winning, 15-10.

"Just tried to serve "in" pretty much," Hardy said. "The ball is so hard, it's not what we're used to playing with, so we just had to work with it. Switching the balls in the middle of us serving, that's hard to switch. And their balls are really hard. We're used to playing with soft ones."

Roberts says Hardy did a nice job in that final set.

"All of my servers are deep-float servers, so for her to have to adjust and lob that serve, it just shows how out-of-system we were with our serving ball. But it worked out. She found a hole. She stayed consistent with that serve and she kept it in. So, it paid off for her."

Tianna Taylor ended the match with a spike, the same way she ended the first set.

MARQUETTE 3, ESCANABA 1--Seiler Hruska had 22 kills, six aces, and six digs, and Maria Millado added 13 kills, seven blocks, four digs, three assists and two aces for Marquette. "Although we won in four sets, tonight somehow felt like a tighter match than last Thursday. Esky had made some adjustments and came at us pretty hard," Marquette Coach Ann Crandell-Williams said. "Our team's mental game was a bit more of a struggle tonight. Volleyball is a game of mistakes and tolerating the ups and downs, and they managed to pull through in the end. I think the hard work they've put in really helped with that."

Click the thumbnails in the ARTICLE HIGHLIGHTS box above to see photos and videos, and hear comments from Roberts and Hardy.