LSSU Power Play Effective In Victory Over Northern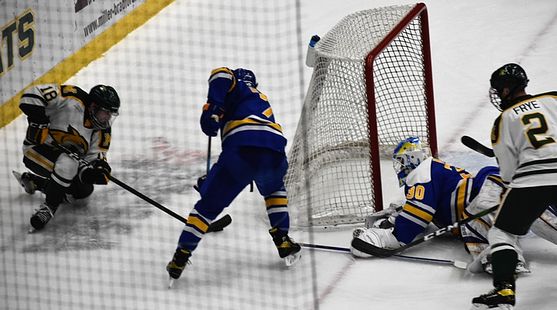 Click the thumbnails above to see photos and videos

MARQUETTE---The Lake Superior State Lakers scored two first period power play goals and added another as a power play was ending in the second peiod, and the Lakers cruised to a 4-1 win over the Northern Michigan Wildcats Friday night at the Berry Events Center.

"I thought we made progress in practice," NMU Coach Grant Potulny said. "Did I think we made progress tonight? Absolutely not. It's upsetting that we start games how we start them. It's upsetting how many penalties we consistently take, and the third period is the first period that we decide to play in the game, and we look like the team that we want to look like."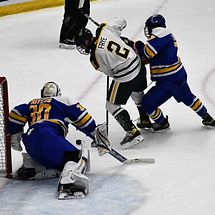 Pete Veilllette scored just 43 seconds into the game for Lake State, deflecting one over goaltender Nolan Kent's shoulder. Then when the Wildcats went to the box again less than four minutes later, Mitchell Oliver scored at the 4:26 mark to make it 2-0.

The Wildcats nearly fell behind even farther when they gave up two straight shorthanded breakways during an NMU power play. But Kent made the save on both occassions.
In the second period, Louis Boudon scored just two seconds after an LSSU power play ended, making it 3-0. Boudon had a goal and two assists.

It stayed 3-0 until the Wildcats were awarded a five minute major power play. The Lakers easily killed off the first half of it, but captain Joe Nardi scored from the left face off circle, with A.J. Vanderbeck and Alex Frye drawing the assists.

But NMU could not beat LSSU goalie Mareks Mitens again, and with 1:41 left, Hampus
Eriksson scored an empty net goal to close the scoring.

The shots on goal ended up tied, 28-28. Mitens made 27 saves for the Lakers. Kent stopped 24 shots for NMU.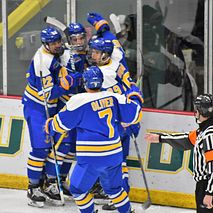 "We need to prepare better for the game, and start the game on time," Kent said. "I think we just need to outwork them tomorrow, and play hard right out of the gate, and not wait until the third period to start playing."

This was a non-conference game between the two WCHA and Upper Peninsula rivals, set up after the Alaska teams dropped their seasons.

LSSU improved to 5-1-3 on the season, and is ranked 19th in the country. NMU fell to 2-5-0.

"I give Lake State credit," Potulny said. "They block pucks. They play hard. They did the things that we mentioned that they were going to do. But that's the willingness and commitment to win the game. We're not there yet. But we will get there."
The two teams will play again Saturday night in Marquette. Face-off is 6:07. The game will be broadcast live on 100.3 The Point, and Eagle 107.3 FM.