'MOS MOVIN' ON: Escanaba Knocks Off Kingsley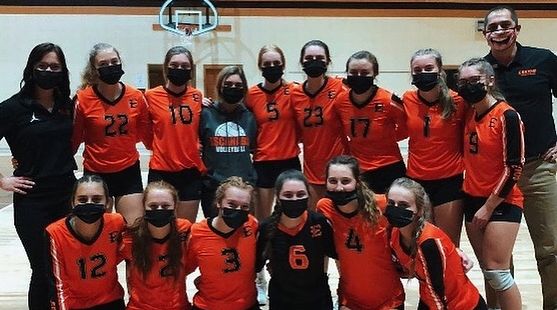 ST. IGNACE---The dream continues for the Escanaba High School volleyball team.

During a season that has seen nothing happen "normally", the Eskymos lived to fight another day Tuesday by posting their first regional tournament victory, beating the Kingsley Stags, 3-0.

The scores were 25-21, 25-17, and 25-14.

The Eskymos won in a rematch of last year's regional semifinal, which Kingsley won on Manistique's neutral court. This one was held in St. Ignace.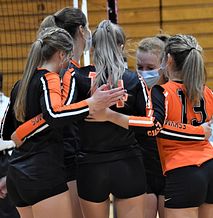 "We weren't in Manistique so that was a good thing. I think that Emerald thing was a kryptonite for us," Escanaba Coach Adam Lambert joked. "For real, these girls came with so much confidence tonight. They knew what last year was to them emotionally, and they did not want to remind themselves of that. So they went with a complete different mindset. They went with confidence right from the get-go. It was an amazing game for our girls again tonight."

During the regular season, the Eskymos have endured a three-week stretch with no matches due to COVID-19.They had to play their first few matches with no fans at all. They've had to put up with wearing masks. And that was just the regular season.

Into the playoffs, they had several players quarantined. But Tuesday night, the team welcomed back Katelyn Stahlboerger and Carney Salo. And it made a huge difference, in particular, the heighth of Stahlboerger to complement that of fellow "big" Nicole Kamin.

"She was gone for like three weeks and we didn't know how she'd come back," Lambert said. "I was nervous. She came back for two practices. She showed up and she had the game of her career, in my opinion tonight. She showed up. She pounded that ball hard. Even their coach said: 'we knew about Kamin, but we did not know about Number 23. Who is that, and how much long do you have her for?"

The Eskymos played without Allison Korpi, who was still quarantined.

Escanaba will travel back downstate to face another strong team on Thursday: the Cadillac Vikings, which swept Clare in Tuesday's other semifinal in Big Rapids. The Thursday night match will start at 6:00 at Houghton Lake High School.