Escanaba Wrestlers Capture Elks Invitational Title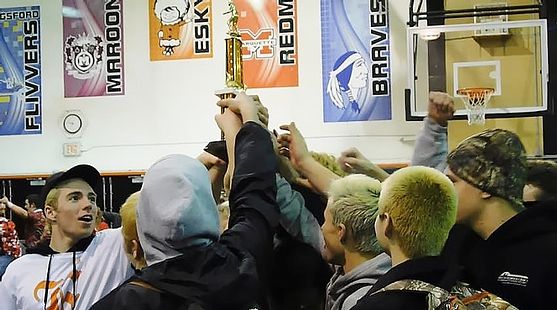 ESCANABA---The Escanaba High School wrestling team won the Elks Invitational championship for the first time since 2012 on Saturday as eight boys made the finals, with three taking first place. It was the 45th annual event, sponsored by the Elks Club.

Escanaba 103-pounder Collin Arnt got things started by beating Westwood sophomore Joe Derocha on a 6-1 decision to win his first title.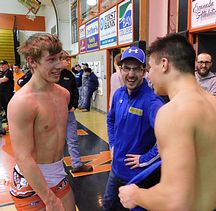 Then 119-pound sophomore Justin Mathieson controlled his match with Kingsford's August Early from start to finish, recording the pin in three minutes, 36 seconds.

Eskymo sophomore Hunter Larson also took first place in the 135-pound weight class, beating Munising's Nick Miles on an 18-2 major decision.

Escanaba seniors Courage Krueger (140 pounds) and Scout Wunder (160) both lost their final matches, with Krueger being pinned by Hunter Brown of St. Ignace, and Wunder losing a tough 4-2 decision to Newberry's Alex Henry.

Escanaba sophomore Dayton Miron lost to Iron Mountain freshman John Carrion in the 145-pound final on an 18-8 major decision. Eskymo freshman Brodey Bevins lost his 112-pound match to Westwood junior Nathan Brewer, 7-3. And Escanaba freshman Tyler Lawson dropped an 8-2 decision to Grayling senior Andrew Hopkins at 125.

Bark River-Harris had three wrestlers make the final rounds, with Devin Racicot finishing third at 215 pounds, Kyle Adams taking fourth at 125, and Tyler Racicot fifth at 140.

On the team scorebord, Escanaba won with 224 1/2 points. Grayling, which won the tournament last year, was second with 190 points, followed by Westwood (167), St. Ignace (158), and Kingsford (120). There were 17 full teams at Saturday's event.

All of the individual finals results are posted below, courtesy of Escanaba High School and trackwrestling.com. Click the thumbnails in the ARTICLE HIGHLIGHTS box above to see photos, videos from the tournament.



103
1st Place - Colin Arnt of Escanaba
2nd Place - Joe Derocha of Westwood
3rd Place - Zach Duncan of Grayling
4th Place - Ricky Loehr of Munising
5th Place - Joe Armstrong of UP Extra
6th Place - Paytin Curns of LaSalle HS

1st Place Match
Colin Arnt (Escanaba) 7-2, Fr. over Joe Derocha (Westwood) 9-1, So. (Dec 6-1)
3rd Place Match
Zach Duncan (Grayling) 16-5, Fr. over Ricky Loehr (Munising) 6-4, Jr. (Dec 8-2)
5th Place Match
Joe Armstrong (UP Extra) 2-1, . over Paytin Curns (LaSalle HS) 9-3, Fr. (Fall 2:22)

112
1st Place - Nathan Brewer of Westwood
2nd Place - Brodey Bevins of Escanaba
3rd Place - Thomas May of Grayling
4th Place - Critian Carello of Ishpeming
5th Place - Aidan Smith of Menominee
6th Place - Simon Chouinard of Escanaba 2

1st Place Match
Nathan Brewer (Westwood) 13-2, Jr. over Brodey Bevins (Escanaba) 12-5, Fr. (Dec 7-3)
3rd Place Match
Thomas May (Grayling) 16-5, Fr. over Critian Carello (Ishpeming) 5-3, . (Fall 4:01)
5th Place Match
Aidan Smith (Menominee) 5-10, So. over Simon Chouinard (Escanaba 2) 3-2, Sr. (Fall 2:01)

119
1st Place - Justin Mathieson of Escanaba
2nd Place - August Early of Kingsford
3rd Place - Wyatt Carlson of Westwood
4th Place - Tyler Heusinger of Menominee
5th Place - Trevor Malburg of Iron Mountain
6th Place - Tucker Mertes of Grayling

1st Place Match
Justin Mathieson (Escanaba) 9-4, So. over August Early (Kingsford) 14-5, . (Fall 3:36)
3rd Place Match
Wyatt Carlson (Westwood) 13-4, So. over Tyler Heusinger (Menominee) 9-7, Fr. (Fall 0:56)
5th Place Match
Trevor Malburg (Iron Mountain) 10-5, Fr. over Tucker Mertes (Grayling) 12-8, Fr. (Fall 3:32)

125
1st Place - Andrew Hopkins of Grayling
2nd Place - Tyler Lawson of Escanaba
3rd Place - Ethan Wilcox of Kingsford
4th Place - Kyle Adams of Bark River-Harris
5th Place - Jeremy Hill of Negaunee
6th Place - Brayden Lundquist of Escanaba 2

1st Place Match
Andrew Hopkins (Grayling) 18-5, Sr. over Tyler Lawson (Escanaba) 5-7, Fr. (Dec 8-2)
3rd Place Match
Ethan Wilcox (Kingsford) 11-4, . over Kyle Adams (Bark River-Harris) 9-4, . (Fall 4:40)
5th Place Match
Jeremy Hill (Negaunee) 9-5, Jr. over Brayden Lundquist (Escanaba 2) 1-2, So. (Fall 2:35)

130
1st Place - Logan Dekeyser of LaSalle HS
2nd Place - Cole Hibbard of Grayling
3rd Place - Tyler Lindholm of Westwood
4th Place - Cody Niskanen of Negaunee
5th Place - Cassondra Krenek of Escanaba
6th Place - Shawn Pyykola of Marquette

1st Place Match
Logan Dekeyser (LaSalle HS) 6-0, Sr. over Cole Hibbard (Grayling) 15-5, Sr. (Dec 9-5)
3rd Place Match
Tyler Lindholm (Westwood) 9-8, So. over Cody Niskanen (Negaunee) 5-9, Sr. (Fall 2:26)
5th Place Match
Cassondra Krenek (Escanaba) 2-2, Sr. over Shawn Pyykola (Marquette) 2-5, Sr. (Fall 4:52)

135
1st Place - Hunter Larson of Escanaba
2nd Place - Nick Miles of Munising
3rd Place - Nathan Magnusson of Newberry
4th Place - Anthony Barkley of LaSalle HS
5th Place - Jacob Ingleston of Benzie Central
6th Place - Noah Weaver of Escanaba 2

1st Place Match
Hunter Larson (Escanaba) 11-1, So. over Nick Miles (Munising) 18-2, Sr. (MD 14-1)
3rd Place Match
Nathan Magnusson (Newberry) 19-3, Sr. over Anthony Barkley (LaSalle HS) 9-6, Sr. (Fall 2:20)
5th Place Match
Jacob Ingleston (Benzie Central) 6-14, Sr. over Noah Weaver (Escanaba 2) 1-2, So. (Fall 2:12)

140
1st Place - Hunter Brown of LaSalle HS
2nd Place - Courage Krueger of Escanaba
3rd Place - Jakob Horton of Kingsford
4th Place - Jacob Gribbell of Newberry
5th Place - Tyler Racicot of Bark River-Harris
6th Place - Jacob Carlson of Iron Mountain

1st Place Match
Hunter Brown (LaSalle HS) 10-0, So. over Courage Krueger (Escanaba) 6-5, Sr. (Fall 2:35)
3rd Place Match
Jakob Horton (Kingsford) 9-9, . over Jacob Gribbell (Newberry) 17-6, Fr. (Dec 4-0)
5th Place Match
Tyler Racicot (Bark River-Harris) 10-3, Fr. over Jacob Carlson (Iron Mountain) 5-3, So. (Dec 2-0)

145
1st Place - John Carrion of Iron Mountain
2nd Place - Dayton Miron of Escanaba
3rd Place - Lance Bowler of Newberry
4th Place - Bailey Loukinen of Marquette
5th Place - Josh Filizetti of Gwinn
6th Place - Tylor Welch of Escanaba 2

1st Place Match
John Carrion (Iron Mountain) 13-3, Fr. over Dayton Miron (Escanaba) 6-7, So. (MD 18-8)
3rd Place Match
Lance Bowler (Newberry) 9-3, So. over Bailey Loukinen (Marquette) 5-5, Sr. (Fall 1:58)
5th Place Match
Josh Filizetti (Gwinn) 10-10, Jr. over Tylor Welch (Escanaba 2) 2-2, Fr. (Dec 10-4)

152
1st Place - Trevor Povolo of Kingsford
2nd Place - Cameron Symonds of Newberry
3rd Place - Trevor Johnson of Munising
4th Place - Gregory Paquin of LaSalle HS
5th Place - Hunter Wroblewski of Menominee
6th Place - Kyle Gendron of Escanaba

1st Place Match
Trevor Povolo (Kingsford) 18-2, . over Cameron Symonds (Newberry) 20-1, Sr. (Dec 4-3)
3rd Place Match
Trevor Johnson (Munising) 16-4, Jr. over Gregory Paquin (LaSalle HS) 10-8, Jr. (Fall 1:45)
5th Place Match
Hunter Wroblewski (Menominee) 9-9, Jr. over Kyle Gendron (Escanaba) 3-4, Jr. (Fall 4:15)

160
1st Place - Alex Henry of Newberry
2nd Place - Scout Wunder of Escanaba
3rd Place - Christian Cole of Munising
4th Place - Trevor Matson of LaSalle HS
5th Place - Parker Dole of Grayling
6th Place - Rocco Carlson of Westwood

1st Place Match
Alex Henry (Newberry) 20-2, Sr. over Scout Wunder (Escanaba) 9-5, Sr. (Dec 4-2)
3rd Place Match
Christian Cole (Munising) 16-3, Sr. over Trevor Matson (LaSalle HS) 10-9, Jr. (Dec 10-3)
5th Place Match
Parker Dole (Grayling) 15-9, So. over Rocco Carlson (Westwood) 10-10, So. (Dec 5-2)

171
1st Place - Logan Joseph of Grayling
2nd Place - Leo Helppi of Negaunee
3rd Place - Caleb Brown of LaSalle HS
4th Place - Jackson Vidlund of Westwood
5th Place - Bailey Papineau of Escanaba 2
6th Place - Tyler Cook of Escanaba

1st Place Match
Logan Joseph (Grayling) 16-6, Jr. over Leo Helppi (Negaunee) 8-4, So. (Dec 9-2)
3rd Place Match
Caleb Brown (LaSalle HS) 14-5, So. over Jackson Vidlund (Westwood) 12-7, So. (Dec 9-7)
5th Place Match
Bailey Papineau (Escanaba 2) 4-1, Jr. over Tyler Cook (Escanaba) 3-6, Sr. (Dec 17-10)

189
1st Place - Sam Gilles of Westwood
2nd Place - Caleb Burklund of Iron Mountain
3rd Place - Tyler Withers of Grayling
4th Place - Cody Hanson of Benzie Central
5th Place - Baily Cadeau of Ishpeming
6th Place - Mason Matson of LaSalle HS

1st Place Match
Sam Gilles (Westwood) 20-1, Jr. over Caleb Burklund (Iron Mountain) 13-5, Fr. (Dec 8-4)
3rd Place Match
Tyler Withers (Grayling) 16-5, Sr. over Cody Hanson (Benzie Central) 7-5, So. (Dec 8-7)
5th Place Match
Baily Cadeau (Ishpeming) 7-3, . over Mason Matson (LaSalle HS) 10-10, So. (Fall 0:59)

215
1st Place - Reece Ferrigan of Grayling
2nd Place - Andre Walsh of Ishpeming
3rd Place - Devin Racicot of Bark River-Harris
4th Place - Joe Kelly of LaSalle HS
5th Place - Daniel Johnson of Gwinn
6th Place - Thomas Armbrust of Iron Mountain

1st Place Match
Reece Ferrigan (Grayling) 19-1, Sr. over Andre Walsh (Ishpeming) 3-1, . (Fall 0:19)
3rd Place Match
Devin Racicot (Bark River-Harris) 7-3, . over Joe Kelly (LaSalle HS) 7-4, So. (Fall 0:04)
5th Place Match
Daniel Johnson (Gwinn) 14-7, Sr. over Thomas Armbrust (Iron Mountain) 4-3, Jr. (MD 11-2)

285
1st Place - Eddie Cardew of Kingsford
2nd Place - Josh Bartle of Westwood
3rd Place - Jake Reed of Benzie Central
4th Place - Reid Marshall of LaSalle HS
5th Place - Nick Bluemlein of Grayling
6th Place - Tino Anderson of UP Extra

1st Place Match
Eddie Cardew (Kingsford) 14-5, . over Josh Bartle (Westwood) 12-4, Sr. (Fall 2:30)
3rd Place Match
Jake Reed (Benzie Central) 14-9, Sr. over Reid Marshall (LaSalle HS) 8-4, So. (Inj. 0:37)
5th Place Match
Nick Bluemlein (Grayling) 10-10, So. over Tino Anderson (UP Extra) 3-2, . (Fall 2:12)