Hunter Leads Braves Past Flivvers; Escanaba Next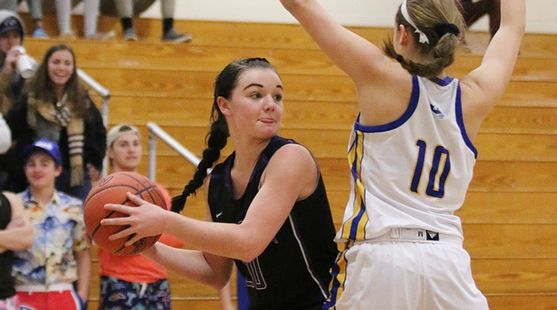 KINGSFORD---Taylor Hunter scored 24 points and grabbed 13 rebounds as the Gladstone Braves beat the Kingsford Flivvers, 56-36, in a Class B district tournament basketball game Monday night in Kingsford.

The win, combined with Escanaba's 57-34 win at Boyne City, sets up a Delta County match-up in the district semifinals Wednesday night.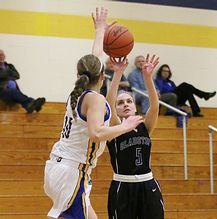 The other district semifinal sees Menominee visit Sault Ste. Marie on Wednesday.

The final score is deceptive, considering the Braves led just 21-18 at halftime after the Flivvers got a buzzer-beating triple from Maggie Strehlow going into the locker room.

And Hunter had three fouls entering halftime. But Hunter kept her aggressiveness despite the foul trouble, and in the third quarter, she helped the Braves pull away to a 35-25 lead with five trips to the free throw line. She made all five foul shots.


Gladstone put the game away by outscoring Kingsford in the fourth quarter, 20-8.

Gladstone's 6-3 freshman center, Megan Crow, was double and triple-teamed all night long, scoring just two points. But Crow made her impact felt in other ways, dishing the ball inside to Hunter and Taelor Zeise, and grabbing seven rebounds.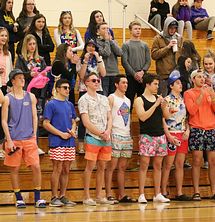 Kaitlyn Hardwick scored nine points, while Zeise and Maddie Ahlgren each added eight points for the Braves (12-9).

Kingsford was able to stay in the game by making five three-pointers (two of them on bank shots), but the shots wouldn't fall as the game went on.

Jordyn Kriegl led the Flivvers with 10 points. Kingsford finished its season 9-11.

The Gladstone-Escanaba game on Wednesday starts at 7:00 in Gladstone. It will be broadcast live on WMXG-FM (Maverick 106.3), and on-line at www.radioresultsnetwork.com.

Click the thumbnails in the ARTICLE HIGHLIGHTS box above to see photos taken by Brenda Crow and videos taken by Mike Dagenais. Also, listen to post-game comments from Hunter and Braves Coach Andy Cretens.

---MORE---