DOWN TO THE WIRE: Jets Sneak Past Rapid River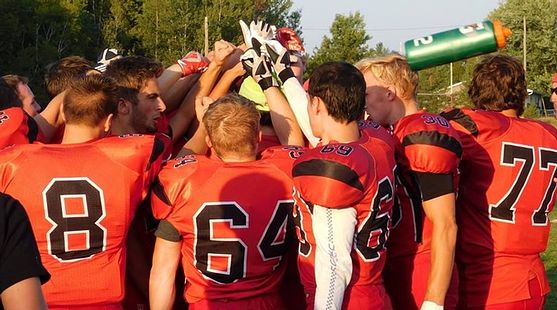 POWERS---Noah Gorzinski's 75-yard kickoff return snapped a late tie, then the North Central Jets made a key defensive stop to beat the Rapid River Rockets, 26-20, Thursday night in Powers. The Rockets committed six turnovers in the setback.

The game was tied at 14-14 in the fourth quarter when NCA's Brady Eichmeier tossed a 28-yard touchdown pass to Noah Gorzinski with 5:55 left in the game. But the Rockets marched back down the field and scored on a Tyler Sundling seven-yard TD run.

That tied the game at 20-20, and after the two-point conversion missed, the Rockets kicked off to the speedy Gorzinski. He took it to the house, 75 yards, to put NCA back ahead.

Rapid River got a chance to tie the game, or perhaps take the lead with a two-point run, but Sundling was stopped on a 4th-and-1 play from the NCA 21 yard-line with 1:28 left.

The Jets were able to kneel down three times to burn out the rest of the clock.

Rapid River (1-1) hosts Carney-Nadeau next Friday night, while North Central (1-1) hosts Rudyard next Saturday afternoon. Both games will be broadcast on Eagle 107.3 FM.