IT'S OFFICIAL: Gladstone's Castor Signs At NMU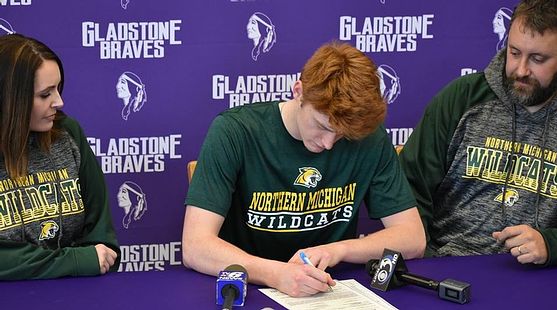 GLADSTONE---Gladstone High School senior Reece Castor signed his National Letter of Intent Friday to attend school and play basketball at Northern Michigan University.

The 6-5 point guard was also heavily recruited by Michigan Tech University, among others, but said that Northern Michigan was "the right fit".

"It was kind of a long, drawn-out process," Castor said. "But as it came down to the end, I kind of felt like Northern was the right place to go. When I went up there for my last visit, it just kind of felt right. The coaching staff and the guys are all really nice. They're all kind of out there with how they thought I would fit in with their program."

Castor has been a starter with the Braves since his freshman year, and played summer ball with the Greenwood Elite AAU team, which is based in downstate Flint.

"We played against a lot of really good teams from around the country," Castor said. "A lot of great players, too. I think that kind of helped me prepare not only for this (high school) season, but for next year. It kind of gave me a little bit of a taste of what I'll see fot next year."

Castor says that playing with Greenwood helped him to hone in his skills.

"I think I kind of improved with being a more vocal leader," Castor said. "They had leaders. They had scorers. But they didn't have much of a vocal leader, and I think that I kind of stepped into that role and helped with that a bit."

Castor did his signing Friday at the Gladstone High School Library surrounded by his family, as well as three television stations and other media members.

Click the thumbnails in the ARTICLE HIGHLIGHTS box above to see photos from the signing event, and hear Castor's interview, which will also air on Nov. 20 during halftime of NMU's basketball game in Hillsdale.