NO LETDOWN: North Central Wins Regional Title

NEGAUNEE---There was no nailbiting moment this time for the North Central Jets.

After surviving a major scare on Monday night, the Jets jumped to a big lead early and pounded the Rapid River Rockets, 95-51, in the Class D regional championship game Wednesday night in Negaunee. It's NCA's fifth straight regional championship.

"We had to make our presence felt early," NCA senior Jason Whitens said. "We all did a good job of that. All five guys played very well. If we play like this...we just have to keep our confidence up. No one guy is more important than the other."

"We tried to come out and take some smart shots, and get into the flow of the game," NCA senior Marcus Krachinski said. "I usually like to try to get to the basket early on, because then it just starts opening up. We came out really strong tonight, and just kind of cruised through the second half."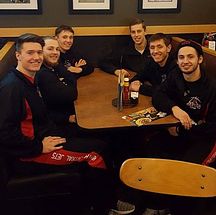 North Central (24-0) took a 24-8 lead after the first quarter with a smothering defense that denied Rapid River's biggest inside threat, Logan Hardwick, from anything easy.

The Jets expanded that lead to 46-19 by halftime and 67-35 after three quarters.

It was a sigh of relief for the Jets and Coach Adam Mercier, after Monday's regional semifinal game with Dollar Bay that wasn't decided until the final minute.

"To win this region five times in a row, it's just a credit to these kids," Mercier said. "The amount of effort, and participation, that they put into the game of basketball is incredible. I'm just so happy for these kids. They deserve it. Tonight, they wanted to make a statement. We did not play well Monday against Dollar Bay. These kids played great basketball tonight."

Whitens led the Jets with 32 points. Dawson Bilski added 14 and Krachinski scored 12.

Freshman Tyler Sundling led Rapid River (11-13) with 25 points.

North Central won its 80th straight game, a national high school record. The Jets face the Hillman Tigers (24-1) in the Class D quarterfinal game Tuesday night in Sault Ste. Marie. The game will start at 7:00 and will be broadcast live on WUPF-FM (Eagle 107.3).

Thanks to Bill Krachinski for the photos. Click the ADUIO buttons above to hear post-game interviews with Whitens, Krachinski, and Mercier.