JUMP FOR JOY! Eskymos Win Regional Title 39-21

ESCANABA---The Escanaba Eskymos won their first regional football championship since 1981 with a resounding 39-21 win in Division Four title game over the Williamston Hornets Friday night under cold, windy conditions at the Escanaba Athletic Field.

Escanaba will face Grand Rapids Catholic Central next Saturday afternoon in the state semifinals. GRCC beat Belding, 42-3, in its regional final Friday night.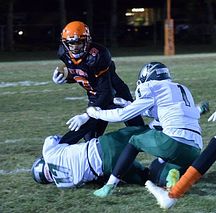 "It feels great," Eskymo senior Scout Wunder said. "This hasn't been won since '81, so it's huge for us, for our community, for our players, for our coaches. This is awesome."

"It was really cold, but the intensity was really high," Eskymo senior Ryan Robinette said. "We came out with the attitude that anyone could win the game, and the better team won it. We prevented their pass, and I thought that we did a pretty good job with it."

The Hornets, from a community located near Lansing, made the long trip north with a potent offense led by quarterback Jackson Pollack.

Escanaba got the jump as Craig Kamin found Robinette for a 14-yard touchdown pass in the first quarter, but Williamston struck quickly with a nearly-all-pass offense, as Pollak hit Frankie Toomey for a 13-yard touchdown pass. Williamston led, 7-6.

The Eskymos dominated the second quarter, however, as Wunder scored on a seven-yard run, then Logan Carroll broke free for a 62-yard touchdown run to make it 19-7.

And late the half, Wunder took it to the house for a 42-yard touchdown run that gave Escanaba a 25-7 lead at halftime.


Escanaba's defense also began to take control of the game, with Hayden Haslow delivering two huge hits, including one on a Hornet fourth down attempt.

In the third quarter, Robinette appeared to have a touchdown catch in the back of the end zone, but he was ruled to be out of bounds.

A pass-interference penalty was called on Williamston, and two plays later, Carroll scored on a six-yard run.

Eskymo placekicker Crister Carne made the extra point to make it 32-7, and he was roughed on the play. The penalty moved the ball to the Williamston 45 yard-line, so the Eskymos tried an on-side kick. Kamin recovered it himself, right up the middle of the field.

Kamin later hit Robinette with a 15-yard touchdown pass, and after Carne's extra point kick, Escanaba was rolling, 39-7. Williamston scored two touchdowns from there as Carey Haney and Max Grace both caught 14-yard passes.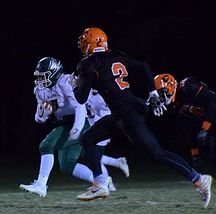 But it wasn't enough as the Eskymos wore down the Hornets and claimed their first regional title in generations, 39-21.

"I've played two years of varsity basketball and really haven't gotten anything," Robinette said. "To come out here with these guys, and win a championship, it's beyond words. I really can't explain it."

The game was played under 22 degree temperatures and wind chill factors just above 10.

"I'm shivvering over here," Wunder said as fans swarmed the field after the game. "I'm ready to get into the locker room and take a warm shower!"

Escanaba will get a rematch with Grand Rapids Catholic Central, a team the Eskymos lost to in the regional final last year. The bracket was different this year, so this meeting will happen in the state semifinals next Saturday. The details of that game will be announced later by the Michigan High School Athletic Association.

Click the thumbnails in the ARTICLE HIGHLIGHTS box above to see photos taken by Anne Truitt and videos taken by Mike Dagenais. Also, click the AUDIO buttons above to listen to post-game interviews with Robinette and Wunder, and hear broadcast highlights from the game.