NMU Offense Struggles In 70-52 Loss To Hillsdale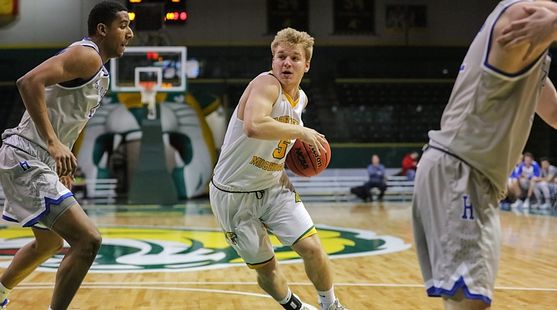 This story was written by NMU Sports Information

MARQUETTE, Mich. – Northern Michigan University Men's Basketball hosted Hillsdale College but shooting woes caused the Wildcats to fall 70-52.

Freshman Noah Parcher (La Crosse, Wis.) led the Wildcats with 11 points. Redshirt freshman Ben Wolf (Naperville, Ill.) tallied 10 points and tied for the team's lead with seven rebounds. Sophomore Dolapo Olayinka (Chicago, Ill.) notched eight points and tied wolf with seven rebounds. He also added two blocked shots.

As a team, the Wildcats finished with 11 offensive rebounds and committed just five turnovers.

Sophomore Troy Summers (Grayling, Mich.) put the Wildcats on the board after a minute into the game to answer a Hillsdale score. The Chargers answered with five points before Parcher made a jumper to make the score 7-4 two minutes into the game.

However, Hillsdale responded to take a 15-4 lead before Parcher scored again. HC followed with a ten points until Wolf sank two free throws with nine minutes left, making the Hillsdale lead 25-8.

Junior Alec Fruin (Beloit, Wis.) hit a jumper which Olayinka followed with a jumper and a four-point play when he sank a free throw after getting fouled on a made three pointer which made the score 25-16 with a little over five minutes to play.

In response, Hillsdale made another three which sophomore Carson Wonders answered with a jumper, but Hillsdale struck again to go up 33-18. Senior Sam Taylor (Chicago, Ill.) scored five points to narrow the gap to ten points, but four points made from Hillsdale made it 37-23.

With 23 seconds left, Wolf made a layup to end the half with the Chargers leading 37-25.

In the first half, Hillsdale finished 7-15 from the three point line, while NMU was just 2-10 behind the arc. The shooting woes plagued the Wildcats to just 29% shooting from the floor throughout the half.

Wolf scored twice to open the second half, and senior Myles Howard (Chicago, Ill.) and Parcher both made layups, while a Hillsdale free throw made the score 38-33 three minutes into the half.

After a timeout, the Chargers rallied with a ten point run to go ahead 47-33 before Olayinka made a jumper. Howard made two free throws after four from the Chargers to make it 51-37.

Freshman Xzavier Jones (South Milwaukee, Wis.) added two free throws of his own but Hillsdale was able to push their lead back out to 59-39 with 7:22 left to play.

Wolf and Wonders both made layups and freshman Justin Kuehl (Iron Ridge, Wis.) sank two free throws to narrow the gap to 59-45 at the 3:24 mark but the Wildcats were unable to get any closer as Hillsdale captured a 70-52 victory.

In total, the Wildcats finished the night shooting just 13% from three and 29% from the field. Hillsdale had their best shooting night of the season, hitting 50% from three and 46% from the field.

The Wildcats, now 4-6 on the season, return to action Saturday to take on Ripon College at 1 p.m. in the Berry Events Center for their final game of the 2019 calendar year.