POWER OUTAGE: Eskymos Fall To Marquette, 4-1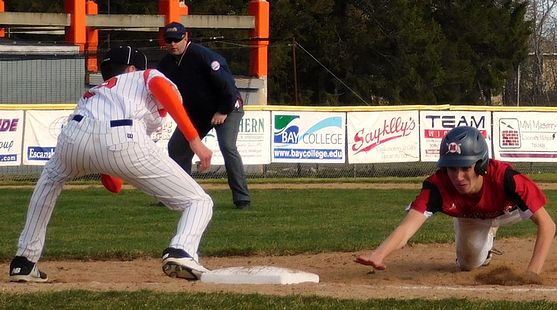 ESCANABA---The Marquette Redmen scored four runs early in the game and then held off the Escanaba Eskymos, 4-1, Wednesday night at Al Ness Field.

The Eskymos had plenty of chances to score, but as has happened a lot this season, they could not get the big hit.

Garrett Finkbeiner scattered four hits over five innings on the mound for Marquette, and Blake Henrikson wiggled off the hook in each of the last two innings for the save.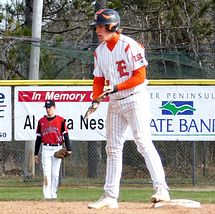 Marquette scored twice in the second inning after Escanaba starting pitcher Johnny Schlenvogt had retired the first five batters in order. Finkbeiner started the rally with a hit, and then Brendan Kaski followed with a single. John Thomson then hit one to the left side that trickled past the Eskymo infielders, scoring both Finkbeiner and Kaski.

In the third inning, Henrikson led off with a walk. Alec Beauchamp bunted him to second base, and Tyler Delmont followed with an RBI double. That made it 3-0, and then Hunter Doucette ripped an RBI double of his own, making it 4-0 Redmen.

Escanaba scored its only run in the bottom of the fourth inning when freshman Josh Bruntgens hit one just out of the reach of the left fielder, bringing Jake Anderson home.

The Eskymos, however, stranded two men on base in four different innings, and had another man thrown out at the plate.

Schlenvogt took the loss on the mound, allowing four runs on six hits. Parker LaMarch threw well in relief, pitching four innings of one-hit ball. He also walked two batters.

Escanaba fell to 4-4 on the season. The Eskymos travel to Waupun, Wis., for a tournament on Friday and Saturday. They return home on April 27 against Negaunee.

Click the thumbnails in the ARTICLE HIGHLIGHTS above to see photos taken by Micky LaMarch.