Eskymos Win Close Games To Take Tourney Title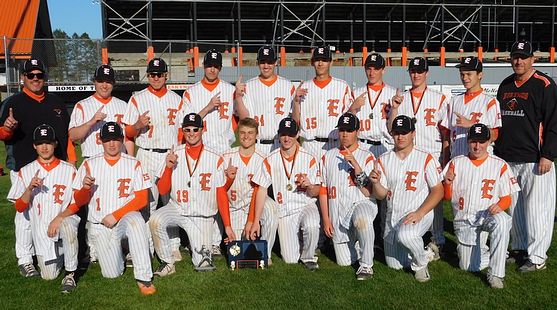 ESCANABA---When the going got tough, Justin Popelka got going.

The senior ace of the Escanaba Eskymos staff pitched his team to a 2-1 victory over the Sault Ste. Marie Blue Devils in the semifinals of the Bink's Coca Cola Invitational Saturday at Al Ness Field. And then, seven hours later, Popelka came back and saved Escanaba's 7-6 win over the Shawano (Wis.) Hawks in the tournament championship game.


The result gave the Eskymos a trophy to celebrate, and some confidence heading into the final two weeks of the regular season.

Escanaba Manager Kirk Schwalbach was relieved after his team committed four errors and nearly let a 7-1 lead slip away in the championship game.

"We made some mistakes in the field late, and Shawano, being well-coached, capitalized on them," Schwalbach said. "Parker (LaMarch) just kind of ran out of gas. I thought he pitched really well, though, we made some mistakes behind him. But Timber came in and shut the door on them and it was nice to win a tournament. I'm happy for the kids."

"It's always nice to win our home tournament," Popelka said. "We work hard all year for something like this, so, I'm just happy for the team."

Earlier in the day, Popelka held Sault Ste. Marie off-balance for most of the game, but the Eskymos had trouble bringing runners across the plate. Eventually, with runners at the corners, Schwalbach told Jake Anderson to break for second base. When the throw went to second, Craig Kamin rushed home to score the game's first run.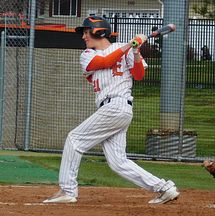 Then Cody Frappier smacked a double into the left field corner to make it 2-0.

In the third inning, however, Popelka had a couple of infield hits and an error go against him, allowing the Blue Devils to load the bases with no outs. Popelka got Ben Skinner to fly out to center field (scoring Logan Bailey with a run), and then Hunter Coneset ripped one to third that Kamin turned into an inning-ending 5-3 double play.

There would be no more scoring in the game.

In the second semifinal, Shawano beat Houghton, 12-0, in five innings. And then in the third place game, Sault Ste. Marie topped Houghton, 12-2, also in five innings.

That set up the Eskymos vs Hawks championship game, and Escanaba had things going its way with a 7-1 lead before LaMarch tired and Popelka had to come back in.

"I kept myself to about 80 pitches in the first game, so I knew I had some room to spare (25 pitches before the pitch limit) when I came in this game," Popelka said. "Honestly, I felt pretty good, so coming in wasn't too difficult for me. It felt nice."

He worked a 1-2-3 seventh inning, getting the final two men on called third strikes.

Escanaba (14-10) travels to Kingsford for a doubleheader on Tuesday, and then returns home next Friday to face the Rudyard Bulldogs and host another tournament.

Click the thumbnails in the ARTICLE HIGHLIGHTS box above to see photos and videos from Saturday's tournament action.