DOING THE SPLITS: Braves, Redmen Trade Wins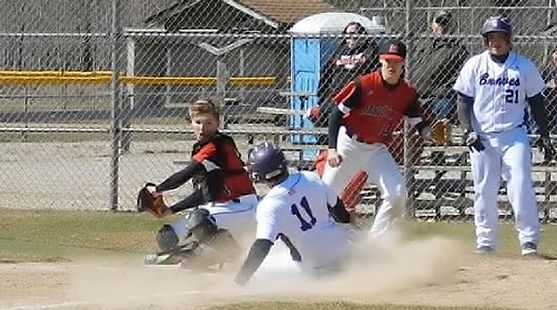 GLADSTONE---The Gladstone High School baseball team mercied the Marquette Redmen, 10-0, in the first game of a doubleheader Thursday in Gladstone.

But Marquette got revenge in the nightcap, rallying for a 6-3 win.

"Two words: I'm embarrassed," Gladstone Manager Don Lauscher said about his team's performance in the second game. "That's exactly what I told the guys."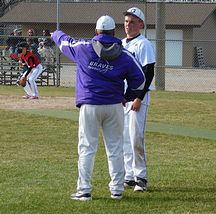 "They need to go home and do some soul-searching. It's a trend. All year long. First game, lights out, and play really heads-up and really focused. Second game, there is no focus. Mental mistake after mental mistake."

The Braves lost the second game despite taking a 3-0 lead with a three-run first inning.

Cody Frappier and Owen Hanson had doubles in the inning and Jared Crow's short fly ball turned into a sacrifice fly.

And then in the second inning, it looked like the Braves would roll when Zac Hanson walked and Clay Cole doubled, putting two in scoring position.

But Marquette pitcher Brandon Kaski wiggled off the hook with three straight outs, and the Braves didn't get another base hit out of the infield against two relivers.

Marquette battled backfor two runs in the third inning when a walk and hit-battsman hurt Braves starter Cooper Cavadeas. Blake Henriksen and Kaski had RBI base hits.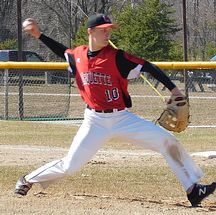 Then things unraveled in the fourth inning as Marquette scored four runs off a comedy of Gladstone errors, including a botched bunt defense, an ill-advised pick-off throw to first base, and a passed ball with a runner on third. Kaski and Tyler Delmont had RBI singles in that inning, and Marquette won its first game of the season (1-5).

"Throwing to the wrong base, trying to make spectacular plays that made no sense whatsoever," Lauscher said. "Cutting off a ball at home plate when you're six feet away from the catcher. That's just baseball basics.

"And we're certainly not doing that in the second game (of doubleheaders). I don't even know what to say anymore."

The same thing happened to the Braves last Saturday, when they followed up a nice 2-0 win at Sturgeon Bay with a stinker in the second game of the twinbill.

In Thursday's opener, the Braves got a shutout pitching performance from Clay Cole and the game was called by the mercy rule after four innings.

Lucas Weinert had a single and an RBI double, Ben Kelly smoked a two-run single to right, and Braeden Lamberg had a two-run single in the first inning.

The Braves also turned a nice 6-4-3 double play on defense, with Lamberg, Carson Shea, and Crow doing the trick.

Despite the disappointment of Thursday's Game #2, the Braves still have a nice 9-2 record. They head to Menominee for a make-up doubleheader on Friday evening.

Click the thumbnails in the ARTICLE HIGHLIGHTS box above to see photos and videos taken by Laura Lamberg.