Gladstone Rallies To Stop Escanaba In Showdown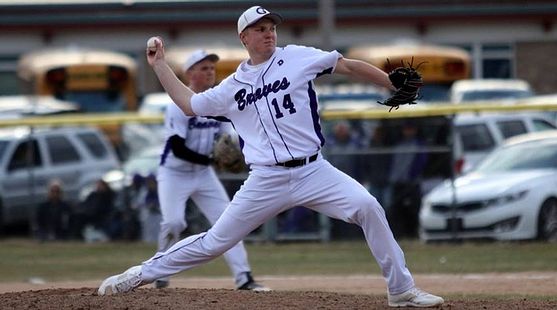 ESCANABA---The Gladstone Braves scored eight unanswered runs to beat the Escanaba Eskymos, 8-3, in a high school baseball rivalry game Tuesday at Al Ness Field.

The Braves spotted the Eskymos an early 3-0 lead but roared back with timely hits, good pitching, and a few Escanaba mistakes, to take the first of the team's two match-ups.

The other will be in Gladstone on May 10.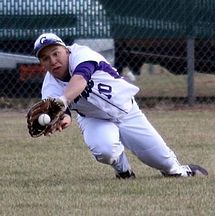 Escanaba jumped on Gladstone starter Ben Kelly in the first inning, scoring three runs on four base hits. Johnny Schlenvogt and Craig Kamin had RBI hits, and a third run scored on a balk with runners on second and third.

But Kelly closed the door from there, throwing four scoreless innings before turning it over to Braeden Lamberg from the bullpen.

"They've got some good hitters on this team," Kelly said of his rocky start. "But I was throwing mostly fastballs, and with the wind blowing in, there wasn't much tail on it."

"So, I started throwing a lot of curveballs. Like, a lot! And that seemed to do the trick."

"I went out there, called time out, and told Ben to start having some more confidence in his curveball," Braves Manager Don Lauscher said. "Start changing speeds a little bit. You try to establish a fastball, which is a good thing, but you have to establish a curveball and a change, just to keep them off-balance. He didn't do that in the first inning. But after the first inning, he did that very well, mixing his pitches, and staying down in the zone."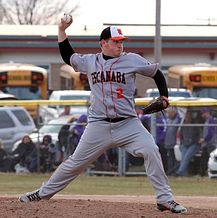 Gladstone got a run back in the second inning off of Schlenvogt, the Eskymo pitching ace. Then in the fifth inning, still trailing 3-1, the Braves turned the game around. It started with senior Owen Hanson putting down a perfect bunt single up the third base line.

After Carson Shea drew a walk during a long at-bat, Clay Cole ripped a single to load the bases. Kamin made a fine play to knock it down and keep it on the infield, but that only delayed the Braves' comeback. Lucas Weinert's sacrafice fly scored a run, then Schlenvogt became increasingly frustrated with the umpire's strike zone.

He hit Cody Frappier with a pitch, then walked Dan Martin with the bases loaded to force in another run. Lamberg's fielders choice grounder brought home the third run.

Escanaba had a chance to tie in the bottom of the fifth when Josh Bruntjens led off with a single and stole second base. But the rally fizzled when Courage Krueger popped up to shallow right field and Bruntjens was caught off the bag for a double play.

Aaron Young followed with a base hit, and eventually stole second and went to third on a passed ball. But he was stranded when Schlenvogt flew out.


Then in the sixth inning, things fell apart for Schlenvogt, as he got called for a walk, a balk, threw a wild pitch, and gave up an RBI single to Cole.

Kamin came on to pitch, but an error and a wild pitch on what would have been a third strike cost him two runs. Gladstone added two more insurance runs in the seventh inning on an RBI hit by Owen Hanson and a sacrafice fly by Shea.

"We out-hit them today (8-7) and we ended up with a lot of balls right at people that didn't end up being hits," Escanaba Manager Scott Hanson said. "We walked in a run, and gave them a couple. You can't a good team like Gladstone runs. They've got a nice team top to bottom. We just need to cut down on our mistakes and try again next Thursday (May 10th in Gladstone). Hopefully we bounce back Friday in Negaunee."

Gladstone (8-1) will be at home Thursday for a doubleheader against Marquette. Those games are being moved to Gladstone because Marquette's field isn't playable. Game time is 4:00. Both games will be broadcast on WCHT-AM (NewsTalk 600).

Escanaba (5-2) travels to Negaunee for a doubleheader on Friday. Game time from IronTown Field is 4:00. Also, the Eskymos will host Marquette on Saturday at 2:30. All three games will be broadcast on WCHT-AM (NewsTalk 600).

Click the thumbnails in the ARTICLE HIGHLIGHTS box above to see photos taken by Brenda Crow, and listen to post-game interviews.