Gladstone Major Boys Win District Tourney Opener

ESCANABA---The Gladstone Major Boys (age 11-12) All-Star team opened district tournament play with a 9-1 win over Escanaba Sunday night at Dickson Field.

Nate Young had three hits and drove in three runs, while also turning in a diving defensive play at shortstop and pitching three innings.

Center fielder John Soderman also turned in a strong defensive play for Gladstone, catching a Ben Johnson shot on the center field warning track during the fifth inning.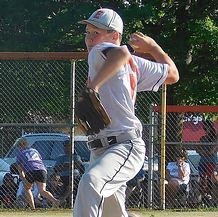 Young threw the first three innings, walking three and hitting two, but allowing no hits and no earned runs. Tyler Darmogray threw two innings and Nick Matthews tossed the sixth inning.

For Escanaba, Johnson started on the mound, allowing four runs on five hits and four walks. Gavin Sommers threw two innings in relief, allowing one run.

Bon LaChance threw the sixth inning, and was charged with four runs (all unearned).

At the plate, Young had an RBI single in the first inning, and added a two-run single in the second inning as Gladstone built a 4-0 lead. Drew Hansen also had an infield single to bring home a run. Later, in the sixth inning, Austin Solis smoked an RBI double into the left field corner, and Darmogray had a two-run base hit to make it a 9-1 game.

Johnny Weinert scored Escanaba's only run in the second inning, and the Esky defense turned two double plays.

In the first game on Sunday, Munising shut out Tri-County, 13-0.

Escanaba faces Tri-County in the loser's bracket at 5:00 on Monday. Gladstone takes on Munising in the winner's bracketat 7:00. Both games will be broadcast on WCHT-A< (NewsTalk 600) and on-line at www.rrnsports.com.

Click the thumbnails in the ARTICLE HIGHLIGHTS box above for photos, videos, and listen to post-game interviews with Young and Soderman...and a radio replay of their defense, plus photos/videos of the Munising game.