Opportunistic Gremlins Shut Down Eskymos, 5-1

WELLS--The Houghton Gremlins hockey team scored a pair of quick goals on two separate occasions and played stingy defense Friday night to beat the Escanaba Eskymos, 5-1, at the Wells Sports Complex.

The Gremlins allowed just nine shots on goal while putting up 32 of their own.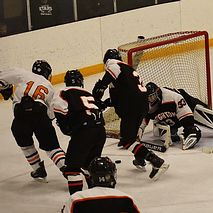 The game was scoreless after the first period, and the Eskymos looked like they were in business when the Gremlins took a five-minute major penalty for boarding. But it was Houghton that controlled the play for much of that time, and the Gremlins cashed in with a pair of shorthanded goals, 20 seconds apart, both by Jiseung Choi.

Then in the final minute of the period, Houghton scored two more goals, 48 seconds apart, as Justin Norkol scored from a sharp angle and Brad Gauthier deflected a shot with less than seven seconds left in the second period. That made it a 4-0 game heading into the intermission break.

The Gremlins got one more goal, from Gauthier, just 46 seconds into the third period, before Escanaba's Devin Fisher scored with 35 seconds left in the game to make it 5-1.

Houghton goaltender Matt Ryynanen had an easy time of it, making eight saves for the victory. Escanaba goalie Bryce Buchbinder played well in sretches and made some nice saves, finishing with a total of 27 stops on 32 Houghton shots on net.

Houghton improved to 8-2-1 on the season while Escanaba fell to 3-6-0.

Escanaba travels to the Michigan Tech University campus on Dec. 29 for a game against Painesdale-Jeffers.

Click the thumbnails in the ARTICLE HIGHLIGHTS box above to see photos and a video of Fisher's goal taken by Micky LaMarch. Also listen to an interview with student managers Robert Bichler and Cooper LaMarch.