Eskymo Baseball Season Ends In Regional Semifinal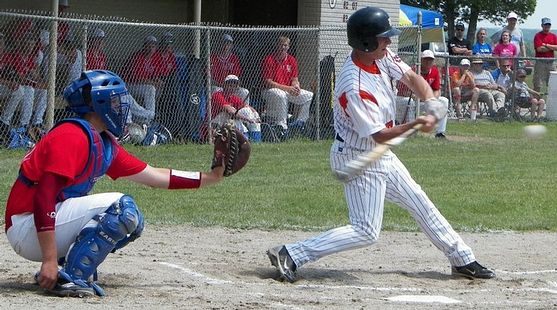 WEST BRANCH---A nightmare scenario played out for Escanaba High School Baseball Coach Kirk Schwalbach as his team took the field Saturday afternoon in the MHSAA Division Two regional semifinals in West Branch.

He knew that his underdog team, with six freshmen and sophomores amongst the ten starters, would have to bring their "A Game" against Remus Chippewa Hills.


Eskymo junior Nick Vandermissen won the team's batting title.

But what Schwalbach saw instead were walks, hit-batsmen, errors, and no clutch hits.

And as a result, his group of Eskymos was eliminated by the Warriors, 8-1, on a hot, sunny afternoon in Lower Michigan. Chippewa Hills beat West Branch, 4-1, for the regional title.

"It was all the things that we've talked about all year," Schwalbach said. "Giving them extra outs, timely hitting, struggling to get first-pitch strikes and getting ahead (in the count). We just had one of those games like we had during the year, and we can't have games like that when we play against good competition."

"We were as mentally into the game as we should have been," Eskymo senior Austin Young said. "There are no excuses for it. I don't know. It just wasn't our game, and that's how baseball is playedm I guess. Everyone's not always on the top of their game."

Schwalbach turned to sophomore Devin Olsen to pitch this important game. Olsen had been the team's most effective pitcher in the late part of the season, including a clutch performance on the mound in the district tournament last week in Sault Ste. Marie.

But on this day, Olsen simply didn't have his best stuff. In the first inning, he walked three batters and hit another. Olsen threw a wild pitch to allow one run to score, then gave up a sacrafice fly to Anthony Dague to make it a 2-0 Warriors lead.

Eskymo sophonore pitcher Devin Olsen struggled to throw strikes against Remus.
Olsen also had problems in the second inning as he walked one and hit another batter, but he got out of that jam.

Then, it looked like the Eskymos might take the lead in the bottom of the second inning. Bailey Lamb got a one-out single to right, then David Falish walked. With two out, Olsen's single brought in a run to make it a 2-1 game.

Cam Beversluis followed with an infield single to load the bases with two outs. But Young struck out swinging to end the Eskymo threat.

In the third inning, Olsen easily retired the first two men he faced, and he had two strikes on #6 hitter Justin Wermette.

But Wermette got a base hit, starting a string of five straight Chippewa Hills batters to reach base after getting two strikes on them. Olsen's day on the mound ended after 2 2/3 innings as he hit Devin Esch with a pitch.

Alex DeHaan came on to throw, but he walked Hayden Denslow and gave up a two-run single to #9 hitter Nick Halm, again, with two strikes. It was a 4-1 Remus lead.

The Warriors (33-6) put it away with back-to-back RBI doubles by Dague and Wermette in the fourth inning. Chippewa Hills stranded 14 batters, but it didn't matter. That's because Remus pitcher Jake Tarbell was in control in a complete-game effort.

David Falish comes up just short on a diving attempt in right field.
"I thought he had like six different pitches," Young said sarcastically after going 1-for-5 in his final Eskymo game. "He was good at his off-speeds and was working us well."

Escanaba finished with a 21-14 record, but the future is bright.

The Eskymos will miss seniors Young, DeHaan, and Ian DeMarse, but a lot of young guys got significant playing time this season against a toughed regular season and playoff schedule.

"A lot of people were surprised to see how young we were and how far we got," Schwalbach said. "We've got a lot of good kids coming back for next year. We're gonna take it a step further next year, and set our goals to make it to Central (Michigan University, for the quarterfinals)."

And for Young, the four-year Escanaba Eskymo baseball standout, who will play for the Northern Michigan University football team starting this fall?

"It was a really fun season," he said, as the team's bus returned to Escanaba at just after 11:00 Saturday night. "Our team really got together good. I had a great senior year."

Click the thumbnails in the "ARTICLE HIGHLIGHTS" box to see more photos. Thanks to John Skufca and Sheila Olsen for their help!

Eskymo Bailey Lamb (34) is bored during warm-ups, as his teammates also get ready for the game against Remus Chippewa Hills. Thanks to John Skufca and Sheila Olsen for pictures!