HEARTBROKEN AGAIN: Wildcats Come Up Short

MARQUETTE---Jake Mayon broke Northern Michigan University's All-time rushing record on Saturday, and the Wildcats jumped to a 14-0 lead over the Michigan Tech Huskies. But the Wildcats lost their ninth straight game to the Huskies, 35-33, in yet another game that went down to the wire at the Superior Dome.

It was the fourth game this season that NMU (2-7 overall, 0-6 GLIAC) has lost by a touchdown or less. Those four losses were by six, three, one, and two points.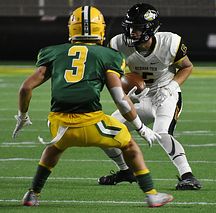 Mayon entered the game just 90 yards away from the school's All-time rushing record, and he wasted no time in putting a big dent in that with a 57-yard touchdown run on NMU's first offensive series. That capped a 96-yard drive that started when Mayon's younger brother, Troy, intercepted a pass deep in Northern Michigan territory.

Then the second time the Wildcats got the ball, Mayon busted loose for a 30-yard run, but it took another play for him to be acknowleged because the 'Cats were in the hurry-up offense and quarterback Kole Stealy burst free for a big run of his own.

Stealy eventually scored on a 12-yard run to give Northern a 14-0 lead.

But the Huskies were far from done, and resorted in some trickery to get on the board. Quarterback Willie Ark tossed one to his favorite receiver, Ben Hartley. Hartley, in turn, threw to Jake Wenzlick for a 36-yard touchdown that stunned the NMU crowd.

Then after the Wildcats punted, the Huskies moved down the field and scored on a short run by Ark to tie the game at 14 apiece.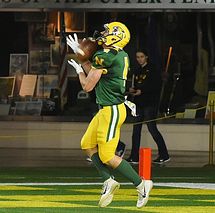 NMU, which has been decimated by injuries at key positions this season, suffered two more big injuries in the first half.

Stealy, who ran for 78 yards on eight carries from the quarterback position, suffered a shoulder injury that left his arm in a sling.

And running back Deandre Caldwell suffered a leg injury and was on crutches.

That brought true freshman Isiah Wright into the spotlight, the fourth Wildcat quarterback used this season.

Wright, who played the second half of last week's game against Lawrence Tech, scrambled for a 29-yard touchdown run to make it 21-14.

But MTU scored two touchdowns late in the second quarter to lead, 28-21.

Northern's defense allowed a touchdown pass from Ark to Hartley late in the third quarter, and the Wildcats were in a 35-21 hole, thanks in part to five personal foul penalties that gave Michigan Tech an extra 74 yards and free first downs.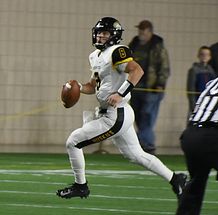 The Huskies also benefitted from a first down pass completition that appeared to bounce off of the turf, and on a close call when Hartley scored his touchdown and the Wildcats claimed the ball had been fumbled prior to Hartley crossing the goal line.

NMU did not give up. Mayon keyed a 67-yard drive with a couple of big runs, including a fourth down conversion, and Wright burst free for a 31-yard touchdown run.

But on the extra point kick, the holder bobbled the snap, so NMU still trailed by eight.

That turned out to be huge as the NMU defense shut down the Tech offense in the fourth quarter, and the Wildcats marched down the field and scored on Wright's third touchdown run of the game. This time, it was a 22-yard run with 49 seconds left on the clock, bringing Northern to within 35-33. The 'Cats had to go for two.

Wright ran to the left side, with the option to pitch it to Mayon, but Mayon was well-covered, so he kept it. Wright was swarmed on at the four yard-line, and that was that.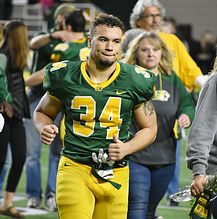 Mayon ended up with 195 yards on 20 carries, while Wright had 116 yards on 17 carries and three touchdowns. For Tech, Hartley caught 12 passes for 114 yards, and Jared Smith, before he left with an injury, carried 25 times for 175 yards.

On defense, NMU was led by Troy Mayon with 16 tackles, including ten unassisted tackles, a sack, three tackles for loss, and an interception.

Austin Potter added 11 tackles, including a sack. Isaac Darkangelo and Trevor Roberts had nine tackles. Michigan Tech improved to 4-5 overall, 2-5 in the GLIAC.

NMU travels to Detroit to face Wayne State next Saturday afternoon. Kick off is 1:07. It will be broadcast on WUPT-FM (100.3 The Point) and WCHT-AM NewsTalk 600), starting at 12:45 p.m. It will also be streamed at www.rrnsports.com.

Click the thumbnails in the ARTICLE HIGHLIGHTS box above to see photos and videos taken by Nate Bellville, and to listen to radio replays from the game. Also hear interviews with Brad Gustafson and Cole VanEnkevort.