FINALLY! Wildcats Pick Up Tight Victory In Detroit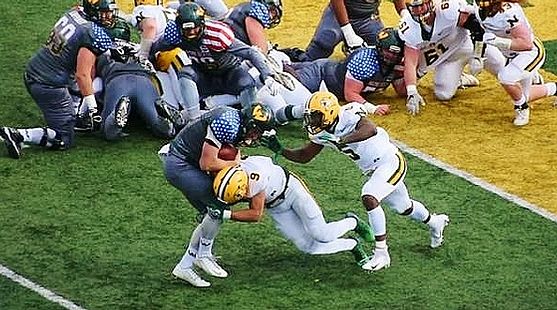 DETROIT---For once, the Northern Michigan University football team was able to walk off the field with a big smile.

The Wildcats rallied from 14 points down in the second half to stun the Wayne State Warriors, 34-24, Saturday afternoon at Adams Field in Detroit.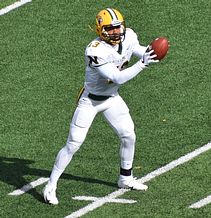 The 'Cats scored on a one-yard touchdown run by quarterback Latrell Giles with 1:28 to play, and then clinched it with ten seconds left as freshman Anthony Ladd intercepted a pass near the goal line and returned it 97 yard for a "pick six touchdown".

The win was sweet for the Wildcats, who have endured a rough season that included four losses by a total of twelve points. This time, though, they got it done in the end.

"Im just happy for the all of our players," Wildcat Coach Kyle Nysrom said. "We got tougher today and we found a way to win. It's about them. God blessed them today."

NMU got off to a rough start, as Wayne State took the opening kickoff and drove 75 yards in ten plays, with quarterback Jake AmRhein scampering from 12 yards out.

Then when the Wildcats got the ball, it was a disaster, as Giles threw a pick-six interception to Wayne State's Malcom Williams.

In the second quarter, the Wildcats got the offense going, with a nice drive into the red zone. But the momentum sputtered and NMU had to settle for a Daniel Riser 32-yard field goal.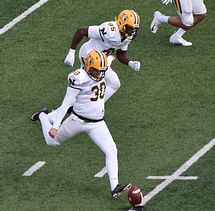 It looked like the Warriors would add to their 14-3 lead when they had first down at the NMU two yard-line. But the defense stood tall, with Brady Hanson and Troy Mayon making the stop on third and one, and then Hanson rushed in for an unassisted tackle on fourth and one.

"I was really happy to see Brady get that done for us," Nystrom said. "It's been a struggle. He stepped up and he got better today. Those are the kind of plays we need him to make on the run in the alley. To be honest, I was trying to 'time-out' them guys and convince them to go for a field goal, but they didn't do it. Brady nade a great play."

In the third quarter, Giles threw another interception, giving Wayne State the ball at the NMU 12 yard-line. But the NMU defense held again, limiting Wayne State to a short field goal. It was 17-3. The Wildcats finally found the end zone late in the third quarter as Jake Mayon went in from five yards out.

Then after a three-and-out by the Wildcat "D", the 'Cats drove deep into Warrior territory. But on third and goal at the one, NMU could not get that yard, and Nystrom decided to take the field goal on fourth down, and Riser connected from 17 yards out to make it 17-13.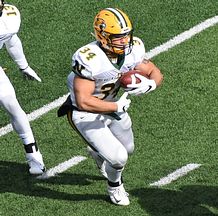 The defense continued to control the game, forcing another punt, and the offense took advantage with a 62-yard drive that included a mixture of Mayon runs, Giles runs, and Ben Loutsis pass receptions, including a big one on fourth down to keep the drive alive.

NMU was 4-for-4 in fourth down conversions in the game. Giles scored from one yard out giving Northern its first lead.

Wayne State (2-8) was able to get its offense going, though, as James Hill scored from two yards out with 8:31 left in the game.

That capped a 75-yard drive that took just over three minutes to complete.

The 'Cats went on a time-consuming drive after getting good field position thanks to a WSU personal foul penalty on its extra point kick attempt.

NMU started on the 41 yard-line and used 14 plays to travel those 59 yards, with Giles scoring his second TD of the game from one yard out.


The Warriors, however, had one last chance. On 3rd-and-10 and its own 25, AmRheim completed a 45-yard pass deep into NMU territory.

The Warriors got another first down, but with the ball on the ten yard line, AmRheim threw an interception that Ladd took to the house, 97 yards.

"You just never know when you're going to get an opportunity, even at the darkest of times," Nystrom said of Ladd, who was beat on the deep ball earlier in the drive. "We were trying to hold at least to a field goal, but I was watching that quarterback getting flushed out and running around. I thought we had a shot to pick one. And we did."

"When I saw Tony runing down the boundry, I was like, take a knee! But he looked so dang good running down the boundry!"

Ladd, a freshman from Grand Rapids, said the team just needed a defensive stop.

"I just stayed patient, did what I was assigned by the coaches, and did what I was supposed to do," Ladd said.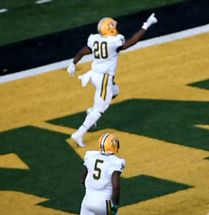 And the feeling of running 97 yards to end the game?

"Running home to Marquette," he said. "That's it. Running home to Marquette, for the people back there!"

Mayon had 36 carries for 179 yards and a touchdown. Giles completed 6 of 10 passes for 147 yards, four of them to Loutsis for 117 yards.

Defensively, Hanson had ten tackles, including seven solo, and Isaac Darkangelo was tough as always, with ten tackles (eight solo).

Troy Mayon had seven tackles, and Ladd had six to go along with his pick-six interception.

NMU entered the game just 185 away from the NMU single season rushing record. The Wildcats ran for 236 yards and have now tallied 2,561 yards on the ground this season. The previous record was held by the 1976 team with 2,510 yards over 11 games. NMU still has one game left to play this year to push the record even higher.

Mayon, meanwhile, entered the game 237 yards away from the single season rushing record. With one game left, Mayon is now just 58 yards away from the record of 1,469 yards.

NMU (3-7 overall, 1-6 GLIAC) closes the season next Saturday in Ashland, Ohio, against the Eagles. Game time is 1:00 and it will be broadcast on WUPT-FM (100.3 The Point), WCHT-AM (NewsTalk 600), and on-line at www.rrnsports.com.

Click the thumbnails in the ARTICLE HIGHLIGHTS box above to see photos and videos, listen to the radio replay of the interception, and hear interviews with Ladd, Nystrom, Jake Mayon, and Austin McCarthy.