OFFENSIVE SLUGFEST: Esky Smacks Negaunee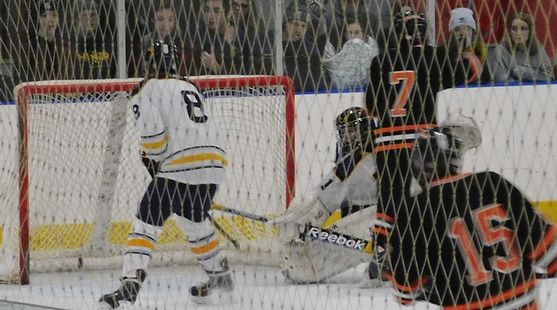 NEGAUNEE---The Escanaba High School hockey team got five goals from freshman Brayden Stannard and three more from sophomore Kyle Krutina and posted a 13-6 win over the Negaunee Miners Monday night at the Negaunee Ice Arena.

Escanaba got its first victory of the season after losing a heartbreaker to Gaylord in overtime last Friday night. The Eskymos also fell to Marquette last week.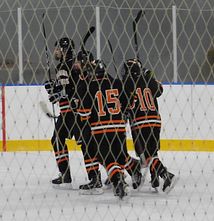 But on Monday, it was all about offense, as the Eskymos fired 43 shots at two different Negaunee goaltenders. After leading just 2-1 after the first period, the Eskymos scored six times in the second period to essentially put the game on ice.

Escanaba scored two goals during a five-on-three power play in that second period, and ended up scoring four power play goals on five extra man chances.

The prettiest of Stannard's five goals came on that second period power play when he slammed one past goaltender Preston Maki after a nice feed from Grant Wickham.

Stannard's luckiest goal was his final one, as he got credit for a goal in the final minutes of the third period when he tried to pass it to Wickham, but it hit a stick and went in.

Krutina had a five point night, adding two assists to his three goals. Wickham had five assists to go along with a first period goal that gave the Eskymos a 2-1 lead.

Sophomore Ethan Silverstone had a goal and added four assists, and fellow sophomore Joe Jacobson added two goals and three assists. Christer Carne also had three assists, and senior Blane Reinhart had a goal and an assist.


Escanaba played without senior defenseman Hayden Haslow and junior defenseman Chris Sliva, both of whom were back home nursing injuries.

Sophomore goaltender Trevor Denome made seven saves and allowed all six Negaunee goals. Negaunee's Maki stopped 21 of 29 shots, and Nolan Corwin stopped nine of 14 shots.

The Miners (1-4) got two goals each from Bryce Jarvi and Ander Sorensen.

Escanaba (1-2) is off until Dec. 15-16, when the boys face Houghton and Painesdale-Jeffers.

Click the thumbnails in the ARTICLE HIGHLIGHTS box above to see photos and videos taken by Sandi Young. Also click the AUDIO buttons to hear interviews with Stannard, Krutina, Jacobson, Reinhart, and Justin VanDrese. You can also listen to radio replays of several Eskymo goals.