Penalty Killing Lifts Blue Devils Past Eskymos, 3-1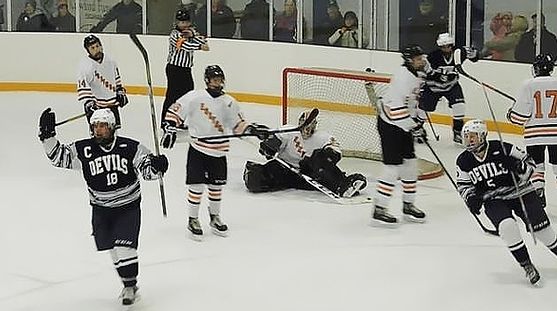 WELLS---The Escanaba High School hockey team had three different long 5-on-3 power play chances Tuesday night, but couldn't cash in, and lost to Sault Ste. Marie, 3-1, at the Hannahville Ice & Turf in Wells. Blue Devil freshman goaltender Logan Raffaelle stopped 30 of the 31 shots he faced, many of them while his team was shortnaded, and senior captain Avery TenEyck scored twice for Sault High.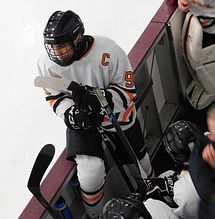 Escanaba had a five-on-three for 1:26 early in the first period, but could not get the power play organized.

Then ten minutes into the game, Bazzil Moran scored from long range to put the Devils on the board.

The Eskymos responded well, putting together a shift that peppered Raffaelle with six shots on goal in a 50-second span. He stopped them all.

Then TenEyck jumped on a loose puck between the circles and scored, making it 2-0.

In the second period, the Blue Devils had a pair of power plays, but could not score, and so the third period began with a 2-0 game...and another Eskymo 5-on-3, again, for 1:26.

They didn't score on the 5-on-3, but with a few seconds left on the 5-on-4, sophomore Kyle Krutina found the back of the net, making it 2-1. Hayden Haslow drew the assist.

The Eskymos had two great chances to tie the game moments later, but Brayden Stannard and Grant Wickham were both stopped from in close by Raffaelle.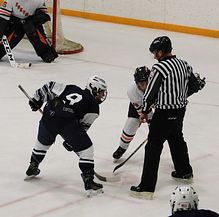 Midway through the period, the Blue Devils were in the box again, and when TenEyck delivered a crunching hit on an Eskymo player into the boards, he was given a five minute major penalty and a game misconduct.

That meant a 5-on-3 for 1:24, and a solid three and a half minutes after that with a 5-on-4 power play. They couldn't take advantage.

Escanaba (2-6-0) ended up outshooting the Sault (10-4-1), 31-30.

Escanaba travels to Traverse City this weekend for the North/South Showcase. The Eskymos face Romeo at 3:30 Friday, and Portage Central at 10 Saturday morning.

Click the thumbnails in the ARTICLE HIGHLIGHTS box above to see photos, videos taken by Sandi Young. Also listen to replays of Krutina and TenEyck goals, player spotlight interviews with Chris Sliva and Zeke Strand, and Coach Matt Hughes' post-game comments.