Huge Second Period Leads Eskymos Past Negaunee

WELLS---The Escanaba High School hockey team scored four goals in the third period and beat the Negaunee Miners, 5-1, Tuesday night in Wells. Five different Eskymos scored goals as Escanaba beat Negaunee for the second time this season.

Justin Van Drese set the tone with a goal 1:46 into the game, but the Eskymos failed to score the rest of the period, despite having four consecutive power plays.

Escanaba took a 2-0 lead just 23 seconds into the second period when Aaron Young skated in all alone on a shorthanded rush and beat Miner goaltender Nolan Corwin.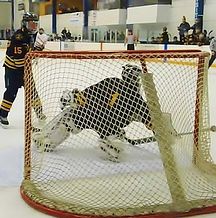 The Miners got that goal back moments later when Peyton Anderson tucked one in along the past after Eskymo goaltender Trevor Denome, who was bumped and sent sprawling.

His goalie stick flew into the corner, but the Eskymos did not get the penalty call.

Escanaba scored three more times in a span of four and a half minutes. Kyle Krutina, Brayden Stannard, and Grant Wickham all scored even strength goals.

It was Stannard's 15th goal of the season, and Wickham scored his 20th point.

Denome, who gave up six goals on 12 shots during a 13-6 win at Negaunee back in December, was much sharper this time. He stopped 24 of the s5 shots he faced.

Escanaba improved to 5-10 on the season while Negaunee's record fell to 1-16.

Escanaba hosts Kingsford Thursday night at 7:00. It will be broadcast on WCHT-AM (NewsTalk 600), and on-line at www.rrnsports.com.

Click the thumbnails in the ARTICLE HIGHLIGHTS box above to see photos and videos taken by Sandi Young.

Also hear post-game comments from #1 star Denome, #2 star Krutina, #3 Van Drese, and Coach Matt Hughes. Also hear Brayden Stannard's spotlight interview, and radio replays of several of Escanaba's goals.