HEART-STOPPING! Kamin Bomb Rallies Eskymos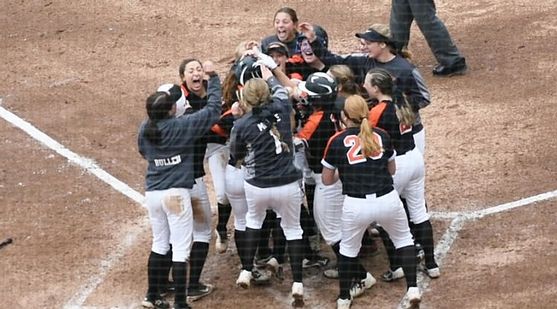 EAST LANSING---Nicole Kamin hit a two-run homer in the bottom of the sixth inning to lift the Escanaba Eskymos to a 2-1 win over the North Branch Broncos in the MHSAA Division Two state semifinals Thursday at Michigan State University.

"Our coach has been telling us to put our toes on the line (batter's box), she's been throwing high, she's been throwing outside," Kamin said. "I put my toes right on the line and that's what happens, I guess. It felt amazing. My heart is still pumping."

Gabi Salo threw a complete-game one-hitter, striking out 14 batters along the way.

"Wow," Salo said after the game ended. "I don't even have words. It's so exciting. I'm not going to lie. I got a little down. I knew that I could go out there and pitch, but our bats needed to get going, and Nicole got the bats going!"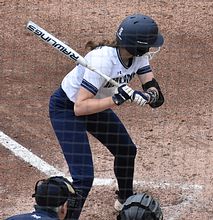 The Eskymos missed out on two scoring chances in the first two innings, and then the Broncos' best hitter, Reese Ruhlman, smacked an RBI double to the center field fence in the fourth inning to put Escanaba in a 1-0 hole.

And they stayed in that hole for a while as North Branch pitcher Gracie Hyde had the Eskymo hitters off-balance, striking out eight and allowing just one hit for five innings.

Then in the sixth inning, #9 hitter Carsyn Segorski got a solid one-out single to left field, the first hit to leave the infield for the Eskymos.

Lexi Chaillier followed with a ground ball that was misplayed at short, but Segorski was called out, after initially being called safe, at second base.

So with two out, up stepped Kamin, who was charged with an error on defense right before Ruhlman smacked her RBI double. Kamin more than made amends, drilling a long two-run homer over the Green and White center field fence.

She raced around the bases as the rain started to pelt her, and was mobbed by her teammates who screamed and jumped for joy at home plate.

"Well, when they called Carsyn out at second, I thought it was a bad call, and I got pretty mad about it," Kamin said. "So, I just went up there and I swung at a big meatball right down the middle and it went over (the fence), I guess."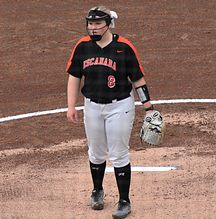 But the game was not over yet. In the top of the seventh, the leadoff batter reached base on an error at third. Salo was able to retire Ruhlman on a ground ball, but then the next batter reached on a poor throw off a ground ball to short.

With runners at second and third with one out, Salo coaxed Madison Taylor to hit a soft line drive to Maddy Block at second base. Then after a lengthy battle, Salo struck out Emily Ludescher to end the game, sending the Eskymos into Saturday's state championship game.

"I threw a lot inside, and a lot of stuff went high, and they were swinging at that" Salo said. "That one change-up (to Ruhlman) that probably wasn't the best pitch to throw, but it's OK because Nicole hit a bomb!"

Literally minutes after the game ended, the skies opened and heavy rain fell on Secchia Stadium, forcing the tarp to be put onto the field and delaying the start of the Division One semifinals. The stadium has newly-installed lights, however.

In the first semifinal on Thursday, Stevensville-Lakeshore scored six runs in the fourth inning and upset Eaton Rapids, 8-1. The Eskymos and Lancers will play at 10:00 Saturday morning at MSU. The game will be broadcast live on Maverick 106.3 FM, and www.radioresultsnetwork.com, starting at 9:30 Saturday morning.

Click the thumbnails in the ARTICLE HIGHLIGHTS box above to listen to pre-game interviews with the three Eskymo seniors, radio replays of Kamin's home run and Salo's 14th strikeout, and post-game comments from Kamin and Salo.