FOURTH QUARTER RALLY: Norse Beat Skippers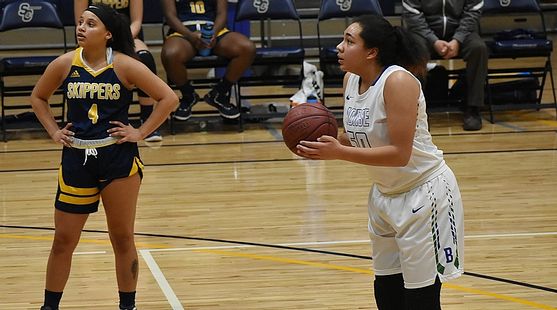 PORT HURON---The Bay College women's basketball team outscored St. Clair Community College, 23-11, in the fourth quarter and posted a 57-52 win over the Skippers Saturday afternoon in Port Huron.

The win came just 24 hours after the Norse were embarrassed by Mid-Michigan, 100-36. Saturday's result squared Bay's overall record at 5-5.


The Norse got a big game from Keshia Davis, who celebrated her 19th birthday a day early. She had the tough task of guarding the Skippers' top player, 6-foot-3 center Emily Fleischmann.

Fleischmann was dominant at times, scoring 20 points and grabbing 21 rebounds. But she was in foul trouble all afternoon long, managing to play just 20 of the game's 40 minutes. Davis was able to get the fifth foul on Fleschmann midway through the fourth quarter.

The Norse rallied from a 49-38 deficit to finish the game on a 19-3 run.

Jordan Kraemer's left-handed shot off the glass gave the Norse the lead in the final minute at 53-52, and after two missed Skipper free throws, Kraemer attacked the basket and was fouled again.

Kraemer made the two foul shots, and after a Skipper travelling call while setting up for a game-tying triple, Kraemer was fouled again and made two more foul shots.

Kraemer ended up going 10-for-10 at the line and scored 16 points. Davis had ten points inside the paint to go along with her tough defensive play.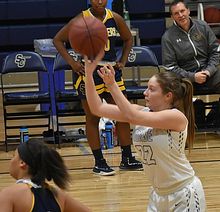 Bay College started the game in a funk, trailing 11-0 in the first quarter. The Norse played strong team defense in the second quarter and Kaitlyn Hardwick had four free throws and Davis scored on a short jumper to give Bay a 22-21 lead.

It would be their only lead, until the game's final minute.

The Norse host Alpena Community College (0-3) Wednesday night at 6:00.

The game will be broadcast live on Maverick 106.3 FM and radioresultsnetwork.com.

Click the thumbnails in the ARTICLE HIGHLIGHTS box above to see photos, videos taken by Duane Englund. Also listen to Kraemer's player spotlight interview and post-game comments from Davis and Coach Rob Robinson.