ROLLIN' RYAN: Robinette Threes Lead Bay, 90-67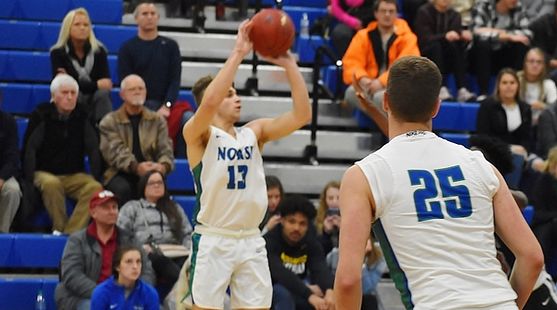 ESCANABA---Ryan Robinette knocked down seven three-pointers and scored 25 points as the Bay College men's basketball team beat the Alpena Lumberjacks, 90-67, Monday night in Escanaba. Christian Alexander added a double-double with 15 points and 11 rebounds, and Chris Dobeski added 16 points in the victory.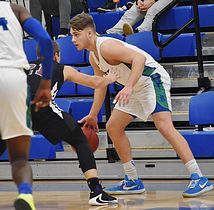 Five of Robinette's triples came in the first half, including bombs on three consecutive plays, helping the Norse to build a 45-27 lead. They led, 47-30, at halftime, and the outcome was never in doubt, although Alpena battled throughout the game.

"I think it's more of my confidence, playing at home, and seeing a lot of familiar faces," Robinette said. "It really comes down to my mindset. I come into games sometimes too passive, and I feel like sometimes that just gets into my head, and that's what makes me not play up to my ability. There's not a shot that I don't think I can't make."

Norse Coach Matt Johnson praised Robinette, and the entire unit.

"I thought our ball movement was the best it's been all year," Johnson said. "When we work the ball inside out, that's when we hit some of those perimeter jump shots. We did a pretty good job of penetrating. Chris Dobessi, in particular. I thought Khalid Fleming had one heck of a first half. He had a two-to-one assist-to-turnover ratio, and only took one shot. That's exactly what we want our point guard, our floor general, to do."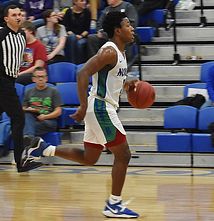 Fleming ended up with four points, five assists, and only two turnovers.

"For me, the most important thing is getting my teammates involved," Fleming said. "Just getting the feel for the game, the whole game, and impacting the game. I don't have to score to impact the game."

Fleming was especially good in dishing the ball to Dobessi. The two are from the Downriver Detroit area, and connected pretty much all night long.

"Yeah, that's my brother! We're from the same place," Fleming said. "I've been playing with him since middle school. Chris is a very good player, very athetic. Doesn't shy away from contact when he gets to the rim. He plays his role. For me, I should know that, and I should get it to him and it's an easy assist right there!"

Alexander was also very strong underneath, and he made five of seven free throws top go along with 5-of-8 from the floor and those eleven rebounds. He played 27 minutes before fouling out late in the game.

Brimley High School graduate Marcus Harris also gave the Norse good minutes off the bench. He nailed two triples and had four rebounds and two assists in 17 minutes.

Alpena (0-5) was led by Issac Hogsett's 18 points, and Chris DeRocher had a double-double, with 11 points and 11 rebounds.

Click the thumbnails in the ARTICLE HIGHLIGHTS box above to see photos and videos, and hear post-game comments from Robinette, Fleming, and Johnson. Also hear the halftime interview with manager Curtis Aiken.