EXHIBITION HOOPS: Northern Runs Past Norse

ESCANABA---The Northern Michigan University women's basketball team made the short trip to Escanaba on Sunday for an exbibition game against the Bay College Norse. Both teams used it as a chance to work on things as they prepare for the regular season.

NMU won the game, 74-46.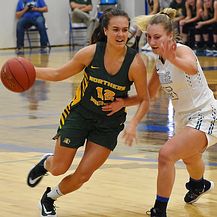 "There's not many teams at our level who get to play a team as good as Northern Michigan for their pre-season." Bay Coach Rob Robinson said. "So, I think just that learning experience is going to be incredible for them."

Wildcat freshman Gwen Streblow led all scorers with 20 points, knocking down five triples and making six of the ten shots she made. Emily Mueller and Samantha Potter both added ten points as Northern made 10-of-30 three-point basekt attempts.

"I thought Gwen Streblow shot the lights out," NMU Coach Troy Mattson said. "She just really looked confident out there. and did an incredible job. And I thought Sam Potter played really well for a freshman, especially defensively, and made some plays that frehmen don't normally make. Overall, it was a good effort from us."

NMU did not play its top four players, and led, 23-5, after the first quarter. But Robinson says there were a lot of things he liked about his team's effort.

"When we got into the press, and we had more people involved than just two, I think good things happened that way," Robinson said. "We offensive rebounded well, and we had some really key ones out of some really key people. Our shooting wasn't the best, but we were playing against girls who are 6-foot-tall, on average."


One down side was an injury to NMU freshman Makaylee Kuhn, who went strong to the basket early in the game and appeared to hurt her knee. She did not return to the game and was on crutches for the rest of the aftermoon.

"We need to get Makaylee healthy," Mattson said. "Going into the year, I was really excited about our point guard situation. We haven't had one, really, for a couple of years. Liz Lutz has been battling a knee injury all fall, and now Makaylee, who's going to be a great player for us, goes down with a knee injury. Hopefully, it's not severe and we can get her back out there."

Bay College was led by sophomore Keshia Davis, who scored 14 points and and grabbed four rebounds. Marissa Ackerman, Trish McGuire, Holly Wardynski, and Madison Olsen all added five points for the Norse. NMU outrebounded Bay, 37-28, and the Norse committed 23 turnovers. Northern ended up with 15 turnovers.

Click the thumbnails in the ARTICLE HIGHLIGHTS box above to see photos and videos, and hear comments from NMU Coach Troy Mattson and Bay Coach Rob Robinson.